FOR decades we have been hearing and even singing popular compositions like Sare Jehan se achcha, and Raghupati Raghava Raja Ram without really knowing the name of Vishnu Digambar Paluskar, the composer of these beautiful songs.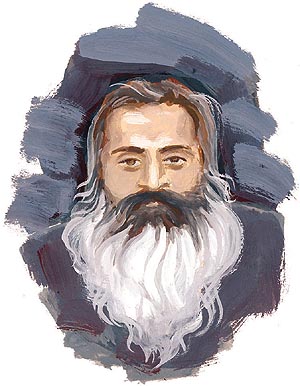 Born at Kurundwad state of Maharashtra into a Brahmin family, Vishnu Digambar Paluskar inherited musical gifts from his
father Shri Digambar Gopal.who was a reputed kirtanist himself. While his parents and patrons were planning a career for him, he met with a serious accident and lost his eyes.
He was sent to Dr. Bhirbhire Kishore, the chief medical officer of a hospital in Miraj, who did his best, but failed. What he did not fail to notice was the extraordinary musical talent the hapless lad possessed. The kind doctor advised Vishnu's parents to send him to a good music guru, but since they were unable to afford the expenses, the doctor using his influence managed to make persuade Shri Hari Krishna Buwa, the court musician of Miraj, to teach him. Thus in 1887, at the age of 15 his training began and continued for the next nine years. Soon he started accompanying his guru on stage. But as the young disciple often outdid his master, his guru did not like it, and, unfortunately the relationship suffered.
Vishnu left Miraj for Aundh, and then to Satara where he held his first solo performance. Thence he went to Baroda, a prominent centre of music like Gwalior. He stayed at the Ram Mandir, where he used to practice in the wee hours. People came to listen to him in throngs, and as his fame spread, Maharani Jamuna Bai invited him to perform at the court. She later gave him a shawl and a gift of rupees three hundred, a considerable sum in those days. But she also advised him to leave Baroda, as she feared her envious court musicians might harm him.
Far more than his personal achievement, Vishnu was was worried about the lack of outlets available to the common masses to learn music, since only the elite and the privileged were given musical training. He wanted music to reach the masses; he wanted to train musicians not in dozens but in hundreds. To achieve this goal he would have to establish music academies, and to do that he would require a lot of money. To begin with he decided to hold public performances charging low ticket rates. Since more and more people could now afford to attend these concerts, more and more young men and women began to learn music. This democratisation of music was not liked by court musicians.
Since he himself had been trained in the rich traditions of the Gwalior gharana, he decided to spend some time there. His performances there were liked very well received, and he impressed great maestros like Guru Apte, Pandit Shankar, and Amir Khan. Maharaj Madho Rao invited him to perform at his court, and he also gave letters of introduction to the Rajas of Mathura and Bharatpur. In Mathura Vishnu learnt Hindi, Sanskrit, and Brij music. He also came in contact with Pandit Chandan Chaube, and learnt the dying art of Dhrupad music.He later went to Delhi, and in 1898 he was invited by Pandit Tola Ram to Jullundar to perform at Shri Hariballabh Sangeet Sammelan. He became so popular there and his fame spread all over Punjab.
Until then music was taught and composed orally, since we had not developed a method of writing music. Like Bhatkhande, Vishnu also studied the Western method of notation and with some modification adapted it to Indian music.
His dream of founding a music academy came true with the opening of Gandharva Mahavidyalaya in Lahore, in the early 1900s.
Among his books are:Sangeet Bal Prakash in three volumes, and equally valuable are his 18 volumes on ragas. When King George V came to India, Paluskar was asked to perform at the Royal Garden of Lahore.
When Lala Lajpat Rai and Ajit Singh were arrested in 1907, he sang Pagree Sambhal Jatta, and In 1923 he also sang Bande Mataram in spite of all opposition. He also performed during the non-cooperation movement.