By Kuldip Dhiman
WORLD Cup 1983. India are in trouble as Zimbabwe have reduced them to 17 for five. When there is total despair in the Indian camp, in comes the tall well-built Kapil Dev, who begins to hammer the bowlers in spite of all the pressure he is under. With 16 boundaries and six sixes, and an unbeaten 175, he converts a certain defeat into a glorious victory. Not only that, he goes on to steer his team to the finals, and defeats the favourites West Indies.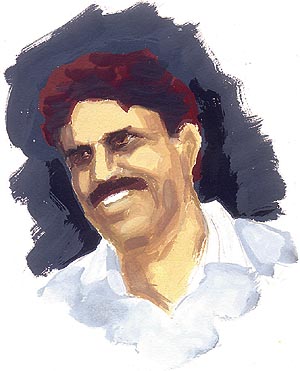 Earlier that year against West Indies, he beat Ian Botham's record as youngest player to complete Test double of 2,000 runs and 200 wickets, he was then just 24 years and 68 days old.
Whether it was Test Cricket, or limited overs cricket, with outstanding medium-pace bowling, attacking batsmanship, and excellent fielding, Kapil Dev, the Haryana Hurricane, had mastered every department of the game to become one of the most popular players of all time. With him on the pitch, there never was a dull moment.
And yet this man who India is so proud of, might have played for Pakistan if his father had not migrated from Rawlpindi to Chandigarh after the Partition. Kapil Dev grew up studying first at the DAV School, and later at the DAV College, Sector 10, Chandigarh.
Making his debut at the age of 16 for Haryana against Punjab in the Ranji Trophy in 1975-76, he took 6 for 39 in the first innings, having switched to swing bowling after starting out as a spinner. A slow walk back to his mark was followed by a springy approach from some 20 yards culminating in a leap and a sideways-on delivery. His pace was lively, his length full, and the late out-swinger came naturally. In his first class career he made 10,800 runs including 16 centuries and took 815 wickets.
With such a brilliant track record, it was not long before he was included in the Indian squad, making his debut against Pakistan on October 16, 1978 at Faislabad in 1978-79. His seven in three tests was not an earth shattering performance, but the promise was clear. He never looked back after that.
Quite early in his career he realised that mere pace bowling would not be enough to ensure him a place in the Indian side for too long, because traditionally batsmen have always held attention of selectors and the public. Sunil Gavaskar once told him that he would never get past 50. This might have come as an eyeopener, and Kapil with the help of his coach began to improve his batting and soon became one of the finest allrounders in the world.
Kapil Dev's best bowling performance was the one against West Indies in 1983-84 when he took 9 wickets by giving away a mere 93 runs at Ahmedabad. He lost his captaincy for three years after he did not deliver the goods against West Indies, but struck back with a vengeance and led his side to a victory against England in 1986.
One of his cherished dreams was to break Sir Richard Hadlee's record of the highest number of wickets in the world. Kapil Dev finally caught up with the master and outdid him while playing against Sri Lanka at Ahmedabad in the 1993-94 series.
Kapil Dev announced his retirement on November 2, 1994, by then he had played 131 tests, scored 5, 248 runs, hit 8 centuries, taken 441 wickets, and grabbed 64 catches. He can look back at his illustrious career with great pride because he holds the Indian record of capturing the most wickets in calendar year, when he dismissed 74 batsmen in 17 tests in 1979, and completing the all-rounder's 'double' of 100 runs and 100 wickets in 25 tests., the youngest player in the world to do so. He was only 21 years old then. And besides being the highest wicket-taker in the world, he is one of the four players who has taken 300 wickets and scored 4000 runs.
Kapil Dev was bestowed with an Arjuna Award in 1979-80, the Padma Shri in 1982, and the Padma Bhushan in 1991. It will take a while for India to find another Kapil Dev.
http://www.tribuneindia.com/2000/20000312/spectrum/main2.htm