By Kuldip Dhiman
THE death of the late Prime Minister Lal Bahadur Shastri in 1966 came as a shock to the entire nation. It was hard enough to find the right man to step into Nehru's shoes, and now, a successor to Shastri had to be found.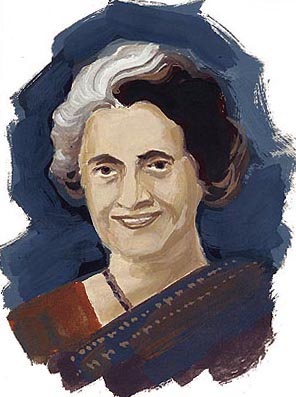 In those days there was a powerful group of leaders called the 'Syndicate', who tried to feather their own nests by hoping to fill the vacuum by a candidate of their own choice. While they were shortlisting the possible successors to Shastri, they considered the name of Indira Gandhi. Being Nehru's daughter, she had a following, and being a woman, an inexperienced one at that, they were under the impression that it would be easier to control her. But a woman of strong will that Indira Gandhi was, she soon proved to them that she could not be trifled with. Far from being a puppet in the hands of the Syndicate, she soon overwhelmed everybody with her shrewd moves, and went on to lead the nation for almost two decades.
An only child of her parents, she had the world at her feet because her parents doted on her, especially her father. As there was revolution in the air, 12-year-old 'Indu' did her bit by forming her own army of children called the 'Vaanar Sena'.
As she grew up, her parents sent her to St Cicilias, Allahabad, and in 1926 they took her to Switzerland. There Indira studied at L'Ecole Nouvelle, and back in India at Santiniketan. After Kamala Nehru died in 1936, she was sent to Badminton School, Bristol, and finally to Somerville College, Oxford.
With the coming of youth, she married Feroze Gandhi in 1942, but instead of enjoying a long honeymoon, she took active part in the Quit India Movement. For this she did eight months in Naini prison. After Independence, she helped her father out in the affairs of the country, and also accompanied him to various countries on official engagements. She entered politics with her election as President of the Congress in 1959. And it was not long before she was offered the post of Minister of Information and Broadcasting by Lal Bahadur Shastri in 1964.
But as destiny would have it, she found herself occupying the Prime Minister's chair in 1966. Soon differences between her and senior members of the Congress began to crop up and the result was the split of the Congress in 1969.
Among Indira Gandhi's great achievements in her long political innings, are the Liberation of Bangladesh in 1971, and the underground nuclear test at Pokhran 1974. By that time she had reached the zenith of her power and popularity. But soon things began to go downhill for her. When Jayprakash Narayan threatened to launch a countrywide agitation, and even appealed to the defence forces to revolt against her, she imposed the notorious Emergency on July 1, 1975, and also announced her 20 -point programme. This one move made her very unpopular with the masses and she was thrown out of office in the 1977 General Elections.
The last phase of her career was fraught with problems and controversies, not the least being the separatist movement brewing in the Punjab. The events that followed made her quite unpopular, and on October 31, 1984, she was assassinated by her own bodyguards. This was followed by severe a backlash in which hundreds of innocent Sikhs lost their lives in organised street violence.
It is easy to dismiss Indira Gandhi's contribution to her country in the light of her later miscalculations. After a couple of years in office, she had begun to surround herself with sycophants, and any one who dared to differ with her was severely punished .
But to be fair to her, in spite of all her shortcomings, she was an outstanding leader who was big enough to measure up to the legacy of her father. She got things done, and unfortunately also got things undone. If only she had overcome her greed for power, she would have attained a much higher stature as a great leader than she has now.
http://www.tribuneindia.com/2000/20000312/spectrum/main2.htm