By Kuldip Dhiman
IN a school match in 1988, Sachin Tendulkar along with Vinod Kambli came in to bat, and soon became a nightmare for the fielding side by creating a record unbeaten partnership of 664 runs. But Sachin had already tasted blood in 1985 when he scored a century for his school Shardashram Vidyamandir, in the Harris Shield for under-17. The next year he scored nine centuries including two double centuries.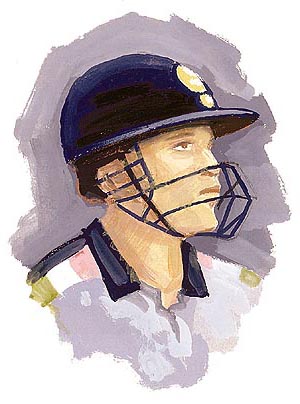 With such unprecedented success at the willows, it was not long before cricketing geniuses like Sunil Gavaskar began to take interest in the new batting sensation. The selectors put him in the reserve for the state, though Sachin's coach Ramakant Achrekar felt that he was too young for the honour. Sachin, however, made his debut in first-class cricket by scoring an unbeaten 100 for Bombay. He finished the season with 583 from 11 innings. He missed the West Indies tour of 1989, but owing to his century in the Irani Trophy, he was picked up for the Indian team. Playing against Pakistan in the first Test at Karachi, and in the second Test, he became the youngest player to score a Test fifty. But he got his first century when he played against England in the second Test at Old Trafford in 1990. India were set to score 408 to win on the last day, and were 109 for four when Sachin came to bat. Soon English bowlers reduced India to 183 for six, but they failed to get rid of Sachin playing at the other end. He scored scored an unbeaten 119, and saved the day for India. The talented batsman continued his century-hitting spree in Australia the following year. This was followed by an equally successful tour of South Africa. In 1992 he was invited by Yorkshire as their first overseas player.
Sachin realised that being a good Test player was not enough; he had to prove his mettle in the one-day game as well. He experimented by opening for India against New Zealand in 1994, and went on to score 82 off 49 balls. Later he scored his first limited-over century against Australia at Colombo, and followed it up with three others.
In his autobiography White Lightning Sir Don Bradman says "Tendulkar is the best looking batsman I've seen . . . . His shot selection is superb, he just lines you up and can make you look very silly. Everything is right in his technique and judgement. He is a lovely guy, and over the years, I've enjoyed some interesting chats with him."
As Sachin grew from strength to strength, he was appointed captain of the Indian team, but he lost the captaincy soon. Regardless of his term as captain, Sachin the batsman kept amassing runs for his side. In 1998-99 season, he scored his 18th century., and the following year scored his first test double century, scoring 219 against New Zealand. Then along with Rahul Dravid he had a record partnership of 331 runs for any wicket against any opposition.
Sachin has handled success with aplomb. In spite of being the richest sportsman in the subcontinent, he is still the same little boy who grew up playing cricket on the streets of Bandra, Mumbai and listening to his favourite Kishore Kumar numbers.
http://www.tribuneindia.com/2000/20000507/spectrum/main2.htm