By Kuldip Dhiman
NANDALAL BOSE was one of the greatest Indian artists of the 20th century, an acclaimed genius, but this great man found it extrremely diffictult to clear his First Arts examinations. Since academics was not his strong point, he was shunted from Central Collegiate School to General Assembly's Institution to Metropolitan College, and finally to Presidency College. And when nothing worked, he was finally sent to Government School of Art in 1905, where Abindranath Tagore, one of the giants of the Indian Renaissance. There he first studied under the tutelage of Iswari Prasad and Harinarayan Bose, and then under the great master himself. Nandalal Bose had finally seened to have found his vocation.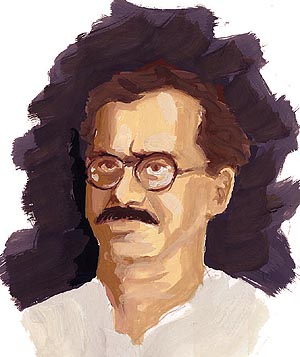 Nandalal Bose's father, Purna Chandra Bose, was a Dewan and architect -engineer in the court of the Maharaja of Darbhanga. But Nandalal probably inherited art from his mother, Kshetramoni Devi, who was well versed in various crafts like embroidery and cross stitching.
With paintings like Sati,and Satir Dehatyag, which were exhibited in the maiden exhibition of the Indian Society of Oriental Art, in Calcutta, 1908, Nandalal Bose made an impact in art circles from his art school days itself. The prize money of Rs. 500 was spent on visiting various archeological sites around India.
It was not long before Nandalal met Rabindranath Tagore at the latter's residence, Jorasanko. The budding artist couldn't have hoped for a better launchpad for his career than the Jorasanko because there he came in contact with luminaries like: Sir J. C. Bose, Count Okakura, Girish Chandra Gosh, Sir John Woodroffe, Lord Carmichael, Lord Ronaldshay, and so on. He also met the great art critic, Ananda Coomaraswamy, and helped the latter catalogue Rabindranath Tagore's paintings and sculptures. He later illustrated the book Myths and Legends of the Hindus and the Buddhists, co-authored by Coomaraswamy and Sister Nivedita. Impressed with the young artist's work, Gurudev Tagore asked him to illustrate Chayanika. Later the poet wrote a poem after being inspired by Nandalal's painting Diksha. This was probably the greatest compliment he ever received for his work.
The discovery of the Ajanta caves had created ripples in the art world, but since the paintigs were frescoes on the walls of dark caves, it was impossible to have them reproduced in print. In those days the the art of colour photography had not advanced to the high degree of sophistication it has today, so the alternative was to send a team of excellent artists to copy the frescoes. And hence when Nandalal Bose was chosen to accompany Lady Haringham and her team to Ajanta, it came as no surprise to his admirers .The technique used by Ajanta artists had a great impact on his work. It was about this time that he came in touch with Arai Kampo, a Japanese artist of the Okakura school. From him he learnt the Japanese style of using the brush and ink technique. Later he was assigned the job of copying the frescoes of the Bagh caves. These two experiences enriched his work and Nandalal's life-long love of murals.
The going for him got rough with the death of his father, but luckily for him Abindranath Tagore came to his rescue by offering him a teaching job at Indian Society of Oriental Art. When Rabindranath Tagore started Santiniketan, he offered Nandalal Bose a job. Nandalal's initial aversion to academics notwithstanding, he wrote two acclaimed books on art: Silpakatha (1944) and Silpacharcha (1956).

http://www.tribuneindia.com/2000/20000305/spectrum/main2.htm