ANNIE BESANT, nee Wood, the rationalist's rationalist, the 'militant Annie' was born in England, but her destiny was linked to India. She did more for India than many Indians of her time. When she first came to India in 1893, she was disappointed by the lack of awareness Indian had about their own culture. She met leading Indian thinkers and with their help was involved in the establishment of the Central Hindu College, Banaras, which later became the Banaras Hindu University. She wrote a number of books on Bhagvad Gita and the Upanishads.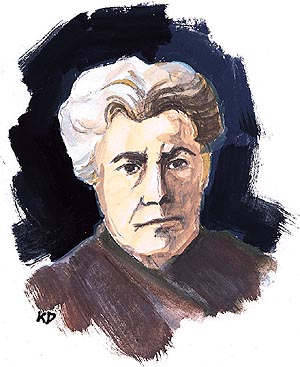 Not many appreciate the fact that this firebrand woman asserted her identity and fought for the emancipation of women long before the reminist movement gained ground. She vehemently condemned the evil practice of keeping women in Purdah, and advocated widow remarriage.
Annie Besant was appalled the way her own countrymen were treating Indians. In England, India and Afghanistan, published in 1879, published long before she came to India, she had observed: 'We exploit Hindustan not for her benefit, but for the benefit of our younger sons, our restless adventurers, our quarrelsome and never-do-well surplus population. At least for the sake of common honesty, let us drop our hypocritical mask and acknowledge that we seized India from lust of conquest, from greed of gain from the lowest and paltriest of desires.' The rising of 1857 according to her was 'the natural nemesis'
Dr Besant wanted full freedom for India as a member of the Commonwealth. She even had a national flag designed. In July 1914 she started a daily newspaper in Madras, New India to advocate Home Rule for India. Her Home Rule movement attracted leaders such as Tilak, Jinnah, Sapru, Motilal and C.P. Ramaswamy lyer. She presided over the Indian National Congress in 1917 at Calcutta, and in 1916 she started the Home Rule League. A year later she was interned along with B.P Walia and G.S. Arundale at Ootacamund. S. Subramanya Ajyer, former judge of the Madras High Court, renounced his Knighthood in protest. Her internment only led to a national agitation for home rule.
In 1919 she openly disagreed with non-cooperation movement launched by Gandhi. She opposed the boycott of law courts and of schools and colleges.
Apart from political, theosophical movement was her main interest. She was called the rationalist's rationalist, and most of her admirers were shocked by her sudden conversion to spiritualism and the occult. She also groomed Jiddu Krishnamurti to become a world teacher.
Commenting on Dr. Besant's immense contribution to Indian culture Pandit Gangadhara Sastry descibed her as Sarva Sukla Saraswati.