By Kuldip Dhiman
AS the force behind India's Integrated Guided Missile Development Programme, he gave India. Prithvi, Agni, Trishul, Akash, and Nag, and Arjun. He indigenously designed an aircraft engine and a state-of -the -art electronic warfare system. But not the man to rest on his laurels, he has vowed to make India self-reliant in military technology by the year 2005, because he believes: 'Strength respects strength, and technology honours technology'.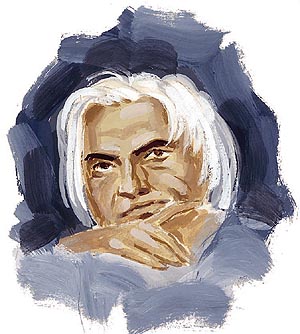 And yet when he heard that he was honoured with a Bharat Ratna, the highest honour of the country, he remembered first of all his teachers and the team of scientists with whom he had worked at the Vikram Sarabhai Space research Centre and DRDO. "I couldn't have done it by myself," he admits, "Behind me there were thousands of scientists. I only shaped the programmes."
For a man destined to accomplish such great feats, Dr. Abul Kalam has had very humble beginnings. One of the six children of a very poor family in the temple town of Rameshwaram in Tamil Nadu , he was lucky enough to have good friends and teachers like Chidambara Subramaniam, who were instrumental in sending him to Sheward High School, Ramananthapuram. and later for graduation in Physics to St Joseph College, Trichinapally. As he was an outstanding student, it was not difficult for him to get into the prestigious Madras Institute of Technology.
No doubt it was his sister who pawned her jewellery to pay for the entrance fee. But the sacrifice of his loving sister did not go in vain, for today, her brother is the father of India's missile programme and a key functionary associated with the country's nuclear weapons programme, as well as principal scientific advisor to the government of India. Since 1993 he is the Chairman of Technology Information Forecasting and Assessment Council.
After his education Dr Kalam was offered a post at Defence Research and Development, Organisation (DRDO) in 1958. A self-made man, the only training he ever had abroad was a four-month stint at Wallops Island Rocketry Centre under the Indo-US space cooperation programme in the early 1960s. Five years later he went to the Indian Space Research Organisation where he became the Project Director of SLV-3 and Rohini which took off in 1980. With such successes behind him he soon realised that they could be used to enhance India's nuclear weapons programme. While Dr Kalam is humble enough to credit his successes to his teachers and colleagues, he is bold enough accept failures. When when the SLV3 experimental launch failed in 1978, he claimed all responsibility.
A simple peace-loving man, Dr Kalam doesn't mince words when he says that only the strong can talk about peace; the weak have to accept what is offered to them. And since wars in future will be short and intense; 'stealth and lethality' will dictate the strategy. We have to prepare ourselves for every eventuality, and Dr. Kalam and his team of 7,000 dedicated researches and scientists at 50 laboratories of DRDO are doing their best to make India a force to reckon with. And for this the first step would be to avoid assistance from others as much as possible. "A self-reliant nation," he stresses, "will have the capability for design and development of crucial systems. Self-reliance does not mean isolation. It means keeping our vital interests."
But he is not a typical absentminded professor, busy in his laboratory with his experiments. Far from it, Dr Kalam is a warmhearted man who plays the veena, and writes poems in Tamil. His favourite poet is Subramanya Bharati. Although Dr Kalam is a devout Muslim, he is a vegetarian, teetotaller, and bachelor who reads the Bhagwadgita, thus prompting his friends to nickname him, 'Kalam Iyer'.
But like every human beings, Dr Kalam has many aspects to his personality, and at times he often wonders if he is doing the right thing by designing more and more weapons of mass-destruction. In one of his poems he wonders:
Is this happiness?
Did I explore space to enhance science
Or did I provide weapons of destruction?
http://www.tribuneindia.com/2000/20000305/spectrum/main2.htm