By Kuldip Dhiman
IN the early fifties, noted film director Jean Renoir arrived in West Bengal to shoot 'The River'. A young graphic artist approached the director and got the permission to watch the shooting. The request was granted, and the idea to film Bibhuti Bhushan Bandyopadhyay's classic 'Pather Panchali' was born.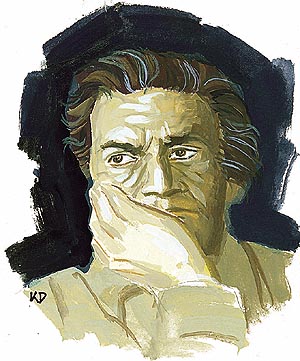 Born into a family of artists, Satyajit Ray showed rare talent for drawing from a very young age. His grandfather was a well-known author, composer, printer, and publisher specialising in children's literature, and his fa-ther was a writer and poet. Ray lost his father quite early in his life, and he spent his childhood with his uncle. He went to San-tiniketan in 1941 where he studied art under Nandlal Bose. In 1943 he joined an advertising agency, and after ten years' work rose to become its art director.
In about 1950 he was sent to England to work for some months in his advertising firm's London office. Once there, he seized the opportunity to see European and American films. Among the films that had a profound impact on him was De Sica's 'Bicycle Thief'. The technique of shooting on actual locales with non-professional actors in a realistic fashion ap-pealed to him.
Ray returned to India, and wrote the first draft of Pather Panchali. However, no producer showed any interest in the project. Undeterred, Ray, along with his cameraman friend Subrato Mitra, and art director, Bansi Chandra Gupta, shot some foot-age using a 16 mm camera, but the project had to be shelved for a year. In 1952 he mortgaged his life insurance, and even sold jewellery belonging to his mother and wife. Later the West Bengal government assisted him with finance and the film was finally made. Pather Panchali had a bad opening in Calcutta but picked up later. In 1956 it won the award for 'the best human document' at the Cannes Film Festival and a string of awards.
In the next next twenty-five years, Ray came up with cinematic masterpieces with amazing regularity. Films like, Aparajito, Parash Pathar, Jalasaghar, Mahanagar, Sshani Sanket, Sonar Kella and so on, he put the Indian films on the world stage. In 1961, Ray made the highly acclaimed documentary on the life of Rabindranath Tagore.
In spite of all the acclaim, Ray had no illusions about the impact of his work to bring about social change. 'No film or for that matter no work of art,' he once ad-mitted, 'has ever brought about social change. Films can provide food for thought. But even the best reasoned and most perceptive documentaries and educational films cannot by themselves bring about the change. They can only spread the message and provide guidelines, which may or may not lead to effective action.'
Akira Kurosawa aptly summed up Satyajit Ray's awesome talents when he said: 'The quiet but deep observation, understanding and love of the human race which are characteristic of all his films, have impressed me greatly. Mr. Ray is a wonderful and respectful man. I feel that he is a 'giant' of the movie industry.'
Standing at six feet and four inches Satyajit Ray was literally a giant among the filmmakers.

http://www.tribuneindia.com/2000/20000109/spectrum/main2.htm