SUFI Salman Yusuf had a number of people coming to him for various reasons. Some had domestic problems, some professional, others were suffering from a terminal illness. But one day a woman approached him. She had a young boy of 13 by her side. She had come to him because her son was an aspiring singer, but with the coming of adolescence his voice had begun to crack. The Sufi advised the boy not to sing for a couple of years, but did teach him a zikr and a nazm, and told the boy that he should hum the composition, and not sing it aloud.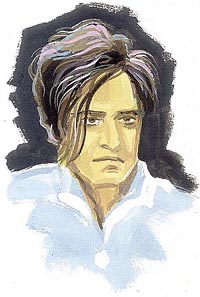 The little boy, Kundan Lal Saigal, would grow up to become one of the legends of Indian light classical music. But all his life he never forgot the lesson the Sufi had taught him, and that was about all the training he ever had in music. And yet when the Prayag Sangeet Samiti organised its annual music conference, it was Saigal that people wanted first of all on stage. In the presence of such masters as Pandit Onkar Nath Thakur, Ustad Faiyaz Khan, V. D. Paluskar, Narayan Rao Vyas, and Vinayak Rao Patwardhan, Saigal did not have the courage to walk up to the stage and perform. He was finally persuaded to sing, and he very reluctantly agreed to sing. He began with a few bhajans and ghazals followed by songs from Street Singer, Chandidas, Yahudi ki ladki and so on bringing the house down with a thunderous applause. After the show he approached Ustad Faiyaz Khan for blessings. " I have nothing I can teach you that you do not know," the Ustad said, "I have learnt a lot from you myself . . ."
Son of a tehsildar working for Jammu and Kashmir, Saigal began his career with the Railways at Moradabad. Later he started selling typewriters for the Remington Company in Kanpur. There he met one Harish Chand Bali, a friend of R. C. Boral. the head of the music department of the New Theatres, Calcutta. Boral was a bit apprehensive about a Punjabi wishing to sing Bengali songs. To make matters worse, this six-feet-one-inch aspiring singer and actor was beginning to bald. How could he be a singing hero? But when Boral heard Saigal sing, he needed no further persuasion.
A string of albums and films followed: Subah ka Sitara, , Chandidas, Devdas, President, Dhoop Chaon, Zindagi, Tansen, Street Singer, Soordas, Shahjahan and many more.
For a singer not trained in classical music, his range was wide. Be it Rabindra Sangeet, hori, kirtan, baul, thumri, ghazal, bhajan, or geet, Saigal sang with uncommon command over his voice. It may come as a surprise to many that apart from Hindi and Urdu, he also sang in Bengali, Persian, and even Tamil! At a time when ghazals were either read or sung in tarannum, Saigal concentrated on gayaki, making the ghazal an extremely popular form of light music. Besides immortalising poets like Ghalib, and singing scores of bhajans and thumris, he gave us such classic film songs as: Jab dil hi toot gaya, Do naina matware, Ai dile bekrar kyon, Ek Raje ka beta lekar udane wala ghoda, Main Kya aanu kya jaadu hai.