By Kuldip Dhiman
IT was a hot summer's day. Unable to control his thirst, a little boy goes to a pond and begins to drink water. He is spotted and beaten mercilessly. His crime? He is an untouchable. High caste Hindus in India have been ill-treating the untouchables for centuries, but not many have the guts to stand up and fight for their rights: Bhim Rao Ambedkar, the little boy, had. This incident was not his first bitter experience at the hands of high caste Hindus. In school, he was not allowed to sit along with other friends; his teacher refused to teach him Sanskrit; if he touched someone by mistake, elaborate purification rituals were held. How much indignity could he tolerate?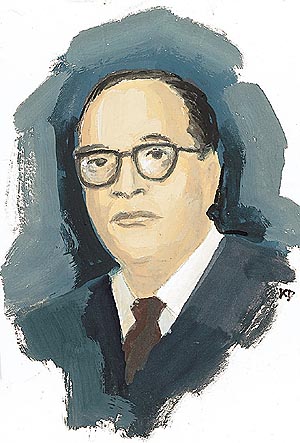 In spite of being the son of a sepoy, Dr. Ambedkar had the good fortune of getting good education. Later, Sayaji Rao, the Maharaja of Baroda offered him a scholarship that enabled him to have higher education in the USA, Germany, and England. Working almost round the clock, he earned a doctorate from Columbia University. While in America, he for the first time learnt what it meant to be free from discrimination, although he did not fail to notice the way blacks were being discriminated there. He later left for Britain to study at the London School of Economics. After his return to India, he became Professor of Economics at the Sydenham College of Commerce. Unfortunately he could not continue to work because of his low caste. Since most of his colleagues refused to speak to him, he was forced to move to Bombay.
Humiliated, insulted, and hurt again and again, Ambedkar realised that he had to do something to change the equation. In 1927, he organised a satyagraha to enable Harijans to draw water from a public tank at Mahed. He also fought for the right to enter a temple at Amravati. He burnt the Manusmriti, the book that supported the caste system. About this time he began to harbour thoughts about giving up his Hindu religion, he even thought of demanding a separate homeland for the backward classes. But on the eve of Independence, he realised that the future of his community was with India.
He was appointed Law Minister after Independence, and as chairman of the Drafting Committee of the Indian Constitution, he was one of the authors of the Indian Constitution. It is ironical that the same man who two decades earlier had burnt the Manusmriti, was now called upon to draft a new smriti - the Constitution of Independent India.
In spite of all the assurances of the government, Ambekar was pained to notice that there was no significant improvement in the lot of the depressed classes, even after Independence. He used to say that railways and factories had done more to combat untouchability than the efforts of social reformers.
Totally fed up with the system, he along with a hundred thousand followers embraced Buddhism at Nagpur on October 14, 1956.
http://www.tribuneindia.com/2000/20000130/spectrum/main2.htm