By Kuldip Dhiman
THOSE who could speak out against the British, spoke; those who could write forcefully against their oppressive policies, wrote; and those who couldn't do either fought. Bipin Chandra Pal had all these qualities - he was an outstanding orator, writer, and fearless fighter. Along with Tilak and Lala Lajpat Rai, he formed the dreaded trio of Bal-Pal- and Lal. A diehard nationalist, Bipin Chandra Pal believed that Swaraj could not be had as a gift, but had to be won by sacrifice and suffering.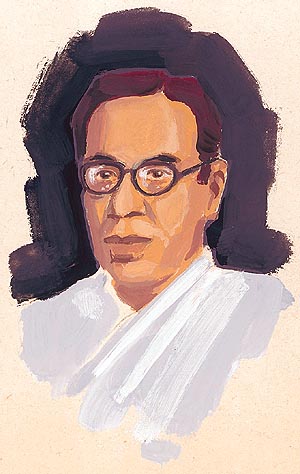 Bipin Chandra Pal started his life as a teacher, and worked in places as far apart as Bangalore and Lahore. He shot into limelight in 1907 because of his spellbinding speeches as a member of the Brahmo Samaj. The same year he was tried for refusing to testify against Sri Aurobindo Ghose, when the latter was charged with sedition. Rather than betray a freedom fighter and friend, Pal chose voluntary exile.
A first class writer, his association with the press was enduring. For a while he was editor of The Tribune when it was being published from Lahore He was also associated with The New India, Bande Mataram, The Swaraj, The Independent, The Democrat, and The Bengalee. Reiterating the importance of total freedom and exhorting Indians to not depend on the British for salvation, he said that we "cannot any longer suffer ourselves to be guided by them in our attempts at political progress and emancipation. Their point of view is not ours. The desire to make the Government of India popular without ceasing, in any sense, to be essentially British; we desire to make it autonomous and absolutely free of British control".
Bipin Chandra Pal believed that the national movement of India should essentially be spiritual, and to regard it as merely economic or political was to miss the point altogether What is the use of liberating the body if the soul is still in chains. In his book The Rise of New Patriotism, he says that protest is always demoralising, unless it it followed by appropriate action.
Soon Bipin Chandra Pal's fame spread like wildfire all over India.You had to just mention his name and people would come in hordes to listen to his inspiring speeches. In the days before the arrival of loudspeakers, he could sway the masses with his faultless oratory and thundering voice. V. S. Srinivasa Sastri, himself a great orator, once recalled: "Oratory had never dreamt of such triumphs in India. The power of the spoken word had never been demonstrated on such a scale." Commenting on Pal's evocative writing, Lord Aetland, Secretary of State for India, observed:"His pen played no inconsiderable part in the social and political ferment that has stirred the waters of Indian life." Sri Aurobindo regarded him as one of the mightiest prophets of nationalism.
When everything was going right for him he made a fatal move by opposing the Non-cooperation Movement. His risked popularity by saying Gandhi had magic not logic. Unfortunately for him, Gandhi's popularity was at its zenith, and this forced Pal into the backwaters of the Freedom Struggle. In the dusk of his life, he was a sad figure, eking out a living writing articles for newspapers and magazines.
http://www.tribuneindia.com/2000/20000220/spectrum/main2.htm