IF India today refuses to be bullied by the powers that be to sign the CTBT, if she can defend her freedom effectively, and if she is a force to reckon with, one of the reasons for it is India's advanced nuclear programme. The credit should go to Dr Homi Jehagir Bhabha, the father of India's atomic programme who was devoted to the transformation of energy into matter and matter into energy.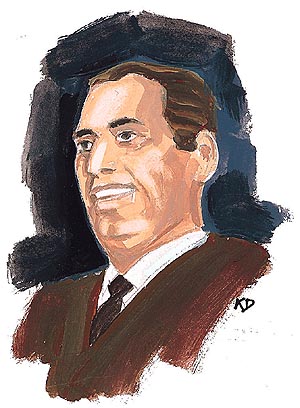 Dr. Bhabha was one of the first to realise the immense potential of atomic power for military as well as development purposes. He roped in some of the brightest scientists to develop India's nuclear programme. He believed "when nuclear energy has been successfully applied for power production in, say a couple of decades from now. India will not have to look abroad for its experts but will find them ready at hand."
Educated at the Cathedral and John Cannon High School, Elphinstone College, and the Institute of Science, Bombay, he later went to Gonville and Cerius College at Cambridge and graduated in 1930. In 1934 he earned a Ph.D in Theoretical physics. He was awarded an Isaac Newton Studentship in 1934, and a senior Studentship in 1936. In his short career, he was selected a fellow of the Royal Society in 1941; won the Hopkins prize of the Cambridge Philosophical Society in 1948; was elected Foreign Associate of the U.S. National Academy of Sciences, and Honorary Life Member of the New York Academy of Sciences. And to top it he was decorated with a Padma Bhushan in 1954.
After his successful stint abroad. Instead of finding a lucrative job, he came back to India to serve his motherland. The country reciprocated favourably, by specially creating of post a Readership in Theoretical Physics for him at the Indian Institute of Science, Bangalore. Later in 1945 the Tata Institute of Fundamental Research was founded on his insistence because 'the lack of proper conditions and intelligent financial support hampers the development of science in India at the pace which the talent in the country would warrant.'
When in 1948 Nehru appointed Bhabha the first Chairman of the Atomic Energy Commission and Secretary to the Department of Atomic Energy, India was poised to become a nuclear power. He was also appointed the Director of the Tata Institute of Fundamental Research and the Atomic Research Establishment, Trombay.
Bhabha believed that 'electronics is the nervous system of modern technology and has assumed an important role in the monitoring and control of the production process in the engineering, chemical and metallurgical industries. It is vital for atomic energy, communications and defence.
Just when things were moving ahead smoothly, the nation was shocked to learn about the death of Dr Bhabha in an air crash. Had he lived a little longer, no one knows what direction the Indian nuclear programme might have taken.

http://www.tribuneindia.com/2000/20000123/spectrum/main2.htm