THE young man lit a fire and, in the presence of his mother, started assigning his degrees and certificates to it. When his bewildered mother tried to stop him, he said politely: "I will never need them, mother. My path is different." Vinoba's path was 'different' indeed, and no one knew it better than his mother.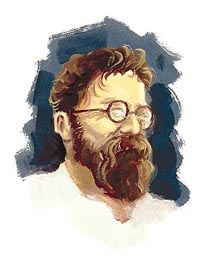 After the incident, as Vinoba was trying to figure out the future course of his life, he chanced upon to read an extract of a speech delivered by Gandhi. The experience changed his outlook on life forever. He wrote a letter to Gandhi, and was surprised when he got a prompt reply. He wrote once again, and the response was as usual immediate. This interesting correspondence carried on for a while, until the two men decided to meet in person. "Providence took me to Gandhi, and I found in him not only the peace of the Himalayas but also the burning fervour of revolution, for freedom. I said to myself that both of my desires had been fulfilled." Gandhi himself was so impressed with his new disciple that he asked him to take charge of the then newly established ashram at Wardha.
For someone who would eventually become the most vocal supporter of Gandhi's non-violence policy, Vinoba Bhave, in his youth, was on the verge of becoming a firebrand revolutionary. He was inspired by Swami Ramdas's Dasabodh and Bal Gangadhar Tilak's writings in the Kesari. The young Vinoba was so disturbed by the British and their attitude towards Indians, that he had actually vowed to kill at least one Englishman in his lifetime.
As a student he was brilliant until his sixth class, but he gradually lost interest in studies. Later, mathematics and philosophy were his favourite subjects. "Next to God if I hold anything best," he once admitted, "it is mathematics."
When he was on his way to Bombay to appear for his Intermediate Examination, he alighted, on an impulse, at Surat, and took a train to Banaras. Once there, he started learning Sanskrit, and studying ancient scriptures. In due course, he also learnt many Indian languages, besides picking up French, Arabic, and Persian. Vinoba took the vow of celibacy at a very young age. He was a man of strict self-discipline who began his day at three in the morning.
In spite of his spiritual leanings, Vinoba found himself in the thick of the Freedom Movement. When he took part in the Nagpur Satyagraha, he was imprisoned for four months. He was jailed again for his part in the Civil Disobedience Movement. While he was in prison, he gave weekly discourses on the Bhagavadgita. These were later published in Marathi as Gita Pravachane.
A man who believed in practising what he preached, Vinoba decided to live among the the Harijans of Nalwadi. Gandhi sent Vinoba to Guruvayur, Kerala, to fight for the right of the Harijans to enter temples. Vinoba also participated in the Salt Satyagraha, and was arrested. He was arrested again in 1942 because he took part in the Quit India Movement, and was given three years for it.
After Independence, while he was working with the Harijans of Poachampalli, a rich landlord donated 100 acres of land for the welfare of the downtrodden. Thus the famous Bhoodan Movement was born with a view to enabling the landless peasants to have their own piece of land. In his endeavour he walked village to village all over India covering more than 40,000 miles, and managed to get 16,77,7111.6 hectares of land for the poor.
Vinoba Bhave believed every village ought to be a self-sufficient unit manufacturing its own basic requirements. He did not favour the growing of cash crops, as reliance on them makes the farmers greedy, and destroys their sense of brotherhood. "Now that political freedom has been attained," he told his countrymen, "we have to work for the establishment of equality. I have called that Sarvodaya. It is for the establishment of this that I am going village to village. I call this my five-year plan. If all of you take up this work for the next five years and during that time succeed in transferring five crores of acres of land, then a great non-violent revolution has taken place in India."