THE venue is the International Socialist Congress, Germany, and the year is 1907. The Tricolour with Bande Mataram written across it is unfurled for the first time on foreign soil, and the person behind this courageous act is Madame Bhikhaiji Cama, considered to be the first woman revolutionary of the freedom struggle.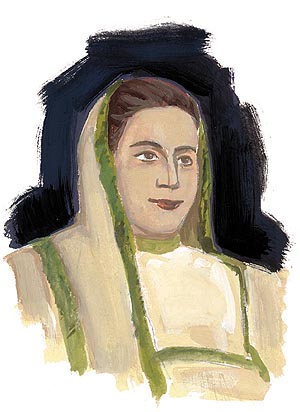 But she was not always a daredevil, on the contrary she was a very shy and withdrawn girl who grew up in an affluent Parsi family. Her early childhood was spent in luxury, but her marriage was a sad one and did not last long. Rustam Cama, her husband, was too busy a man to pay attention to his sensitive bride. In the dreary days that followed, her only companion was her childhood girlfriend, Frances. And with her help she soon got involved in social work, and later, revolutionary activities.
To begin with she started taking care of patients in hospitals, because some English doctors refused to attend to Indians wounded in anti-government demonstrations. In 1902, she left for London for treatment. While there she met revolutionaries like Dada Bhai Naoroji, Veer Savarkar, and Sardar Singh Rana. .
Thoroughly imbued with revolutionary ideas, Bhikhaiji was soon addressing meetings in Hyde Park."We do not want English institutions. We want our country back. No English oak is wanted in India. We have our own banyan tree and beautiful lotus flowers. We do not want to imitate the British civilisation. No, sir, we will have our own which is higher and nobler."
When Savarkar was arrested, she did her best to get him released. Her activities continued even during World War II, but when France became an ally of the English, she was arrested and jailed for three years.
All her attempts to come back to India were thwarted until the British felt she was harmless. She finally returned in 1935 at the age of 74.