By Kuldip Dhiman
WHEN Munshi Prem Chand's first collection of short stories was published in 1907, it was promptly proscribed by the British, and later burnt. What better start could a socially conscious writer expect? Three years later Prem Chand struck back with Soz-e-Watan, another collection of short stories. He was once again summoned by the authorities, this time by the District Judge himself. Prem Chand was severly warned, and once again all the copies of his book were assigned to the flames. The authorities did not realise that the more they tried to silence him, the more he was getting drawn into the Freedom Struggle.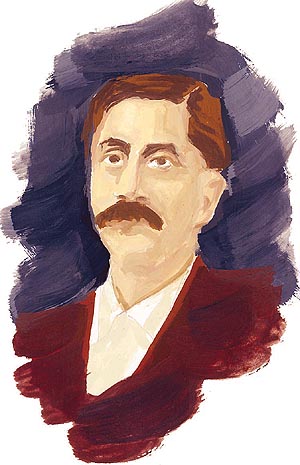 Among Prem Chand's early influences was M. K. Gandhi, but later on he was inspired more by socialism, although in an interview before his death, he categorically denied that he was a communist. Every author is a product of his times, and usually there are more than one influences upon his work, and thus it is not surprising that Prem Chand's work reftected the struggle between Marxism, Gandhism, and Capitalism.
Born in Lambati, Pandepur, Banaras, Prem Chand's real name was Dhanpat Rai. He got interested in literature after he made friends with Munshi Dayanarayan Nigam, the Editor or the Urdu magazine Zamana. Prem Chand had his first acceptance in 1904, writing under the pseudomymn, Nawabrai.
At a time when Hindi literature was rather overshadowed by its cousin, Urdu literature, Premchand lent respectability to the former by his outstanding work. Writing initially in Urdu, Prem Chand switched over to Hindi and wrote nearly 300 short stories and novels, the most acclaimed of them being: Sevasadan, Rangmanch, Godan, Gaban, and Nirmala.In Nirmala (1925) he vividly portrayed the evils of the dowry system. Godan (1936), was published in the year of his death is a moving portrayal of a poor peasant. Mukti Marg is the struggle between a landlord and a poor shepherd. A gifted writer that he was, he could vividly describe the plight of the poor even in a short story of a few pages like Kafan. Dogged by poverty all his life, he did try his luck in Bombay to become a script writer, but was soon disillusioned with the workings of the film industry.

http://www.tribuneindia.com/2000/20000305/spectrum/main2.htm