Good news to friends home comes from model Urvashi Chaudhary, reports Kuldip Dhiman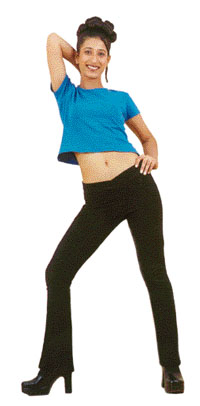 Urvashi Chaudhary, the graceful and lissom model from Chandigarh called from London to tell us that she is there shooting for Balam 420, a Bhojpuri film. "All these years I have seen Indian films that were shot in London and other foreign locations, but I never imagined one day I would be here facing the camera. It is a thrilling experience," she says.
Urvashi was working on Krishna Hoon Main Krishna and Retake, which is almost complete, before she left for London. "Another good news is that evergreen Dev Sahab has chosen me to do the promotional song for his new venture," adds the happy girl.
Urvashi is well known to fashion show aficionados in Chandigarh as she won the title of the Best Catwalk at Miss North in June 2003, followed by being short-listed by Gladrags for their Mega Model Contest in 2004.
She was the second runner-up in Miss J&K held at Jammu the same year. She has done over a two dozen ramp shows in the region. She got ample training before the film cameras by doing music albums such as Dhol Punjab Da with Sunil Pinta, Yoban with Hardev Mai Nangal and Dil Vich with Rajinder.
Urvashi owes her success to her mother and father Vinod Chaudhary, and her mentor Arvind Prashar Jolly. But her newfound success has not robbed her of her memories of her beautiful city, which she still misses.