By Kuldip Dhiman
WHEN she was barely five or six, Lata Mangeshkar heard a student of her father's render raga puria dhanashree wrongly. In all her innocence she not only pointed out the wrong notes, but also gave a perfect demonstration. Just then her father walked in, and was amazed at his daughter's amazing mastery over the complex raga. Later he said to his wife: 'Imagine, we have a gifted musician in our house, and we didn't even know.' Just then he decided to groom his talented daughter, but even he would hardly have foreseen the dizzy heights of success his little daughter would scale. After her father, Lata's first formal guru was Ustad Aman Ali Khan Bhendibazaarwale, and later Amanat Khan Dewaswale.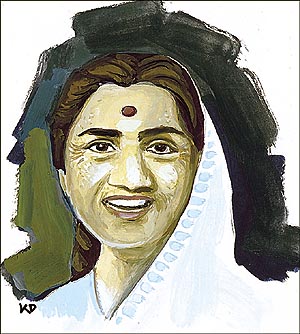 But her happy childhood ended with the death of her father. Now Lata, being the eldest of six children, was forced work in order to feed the family. She sang her first song for Vasant Joglekar's Marathi film Kiti Hasaal, but un-fortunately for her, the song was not included in the film. Later she was employed as child artiste, and her maiden film was Pahili Mangalagaur. After doing only five films Lata refused to act, as she did not like the idea of putting on heavy makeup.
In 1947, Lata recorded her first Hindi song 'Pa lagoon kar jori . . . .' for the film Aap Ki Seva Mein. She has dominated the Indian music scene since. With more than 25,000 songs in almost all Indian languages, she is the most popular voice in the sub-continent, and most of us can hardly imagine life without her songs. There is hardly a music director who has not used her voice. And not many know that between 1962 and 1969, Lata also composed music for three Marathi films.
She was honoured with the Padma Bhushan in 1969; was presented the key of the City of Georgetown, Guyana in 1980; honorary citizenship of the Republic of Suriname in 1980; honorary citizenship of the USA in 1987; Dada Saheb Phalke Award for life long contribution to cinema in 1989. She won the Filmfare awards for the best female playback singer for Madhumati, Bees Saal Baad, Khandaan, and Jeene Ki Raah. In order to encourage new talent, she stopped accepting such awards after 1969. But in spite of all the awards and honour her most cherished moment is when Pandit Nehru cried after she rendered the patriotic song Ai mere watan ke logo, and much later at Tirupati, where she sang for an hour and a half after being conferred with the title Asthan Sangeet Vidvaan Sarloo (Court Musician of the Shrine).
Her hold on her admirers' minds can be judged by the number of enduring myths about her, like the one that American scientists are willing to pay the Indian Government millions of dollars to acquire her vocal cords after her death; that Pakistan is willing to give up its claim on Kashmir in exchange for Lata Mangeshkar, etc. And contrary to the widely held belief that she very calm, and is very particular about her diet, and that she only eats boiled food, Lata actually used to be a very short-tempered person, and she does relish spicy dishes.
http://www.tribuneindia.com/2000/20000109/spectrum/main2.htm