By Kuldip Dhiman
IF cricket is the most popular and the most paying game in India today, 'Little Master' Sunil Manohar Gavaskar deserves credit for it. In his long career, this run machine was the nightmare of bowlers all over the world. As long as he was on the crease, the main task of the opposition was to dismiss him as soon as possible.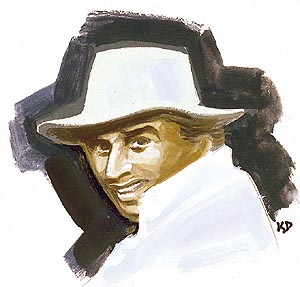 Sunny, as his innumerable fans called him, began his Test career against the West Indies in 1971. He hit 774 runs and four 100s, although he played only four times, helping India to their first win in a rubber against the West Indies. At Port of Spain he scored 124 and 220 not out. He captained India in 40 Tests. In 1981-82, he hit his career-best 340 batting for Bombay against Bengal. In 1983 he became highest scor-ing Test batsman of all time at Ahmedabad during his innings of 90 against the West Indies. Gavaskar and Dilip Vengaskar added an Indian second wicket record of 344 against West Indies at Caltutta.
When he surpassed Sir Donald Bradman's record of 29 Test centuries, he was modest enough to say: 'I am obviously very pleased but I do not regard this as equalling his record. Bradman scored his runs in 52 Test matches, and I am playing my 95th'.' Without taking credit away from Sir Don, it must be stated Gavaskar scored runs as opener against some of the fiercest fast bowlers of the world, where as when he came to bat, Sir Don was usually protected from the new ball.
Gavaskar became the first to pass 10,000 Test runs, in 1886-87, his final season as a Test cricketer, and his 34 hundreds remain the most ever. Thirteen of his hundreds were scored against the West Indies, the most feared side at the time.
The Government of India honoured him with the Arjuna Award in 1975, and the Padma Bhushan in 1980. Now Gavaskar is a successful cricket commentator and writer.
http://www.tribuneindia.com/2000/20000109/spectrum/main2.htm