IN June 1897, two British officials, Rand and Ayerst, were murdered in Poona by Damodar Chapekar. Although Lokmanya Balgangadhar Tilak had nothing to do with the affair, the British implicated him, and tried him for sedition. He was sentenced to eighteen months.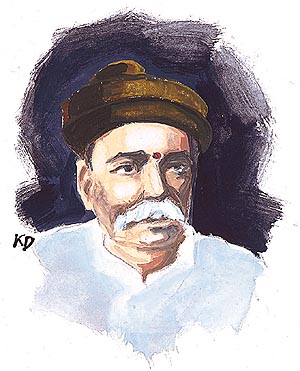 After his release he became a hero and leader of the extremist group in the Congress. 'Freedom is my birthright and I shall have it,' he thundered. 'There is a great difference between asking and petitioning. If you are prepared to fight in the event of your demand being turned down, be sure you will not be refused .... Mere protest notes, backed by self-reliance will not help the people.'
This firebrand revolutionary graduated in 1877, and completed his law degree two years later. Afterwards he worked as professor of mathematics in the New English School, which he had founded. He was also the founder and proprietor of two journals Maratha and Kesari, national schools that were independent of government control. He joined Congress in 1889, but soon differences emerged between him and the moderates.
It is interesting to note that long before Gandhi talked about non-cooperation and boycott, Tilak was already advocating it in 1906. He made no secret about the extreme methods of the Swadeshi and boycott movement. The Lal-Bal-Pal trio came out openly against the government by telling the masses that 'militancy-not mendicancy' was the need of the hour. 'If you have not the power of active resistance, have you not the power of self-denial and self-abstinence so as not to assist the foreign government to rule over you? This is boycott, and this is what is meant when we say boycott is a political weapon.'
Tilak was not just a revolutionary, he was a great reformer and scholar as well. He realised that Indians did not seem to appreciate their rich cultural heritage, so in 1895 he started organising the Ganapati festival and the Shivaji festival. The success of the New English School at Ratnagiri started by him and Agarkar led to the foundation of the Fergusson College. He wanted women to be educated as well, and did his best to ban child marriage. Widow remarriage and a improvement of backward classes were his other concerns.
Even in the grim prison atmosphere, he came up with his own theory about the original home of the Aryans in his book The Arctic Home in the Vedas. He also wrote the highly acclaimed Gita Rahasya, It is interesting to see how Tilak and Gandhi interpreted Gita in exactly two different ways for the same cause-freedom. According to Tilak, violence is at time unavoidable, and even desirable; Gandhi's interpretation on the other hand was coloured by Jainism and Tolstoy.
Sri Aurobindo Ghosh summed up Tilak's contribution to the Freedom Struggle quite well: 'The Congress movement was for a long time purely occidental in its mind, character, and methods.... Tilak was the first political leader to break through the routine of its somewhat academical method, to bridge the gulf between the present and the past and to restore continuity to the political life of the nation.'
http://www.tribuneindia.com/2000/20000123/spectrum/main2.htm