IT is September 1908, a train comes to a halt in Pondicherry. Among the hundreds that alight, there is a young poet with fiery eyes. He is on the run because the British have arrested firebrand leaders like Aurobindo Ghosh, V.O. Chidambaram Pillai, and Bal Gangadhar Tilalk. He must go underground and carry on writing revolutionary stuff to keep the movement alive. Once in Pondicherry he will resume publication of the journal India, and it will bear his name: Subramania Bharati, Editor.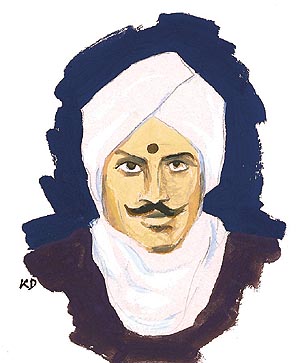 Subramania Bharati was given the title of Bharati when he was barely 12 by a gathering of poets at the Zamin court. As he grew he flowered into one of the finest Tamil poets of the twentieth century. Born in Ettayapuram, Tirunelveli district, in the then Madras Presidency, Subramania or Subbiah was only fifteen when he was married off to a girl of seven. Within a year of his marriage his father died and he had to go to Banaras to live with his aunt. He grabbed the opportunity there to learn Sanskrit, Hindi and English.
Around this time he was offered a job by the Zamindar of Ettayapuram. Eager to be united with his wife, Bharati accepted the offer, but he soon got bored, as his main job was to read out daily newspapers to his employer. Later he did a stint as teacher. Perchance he was offered a job as sub-editor by G. Subramania Iyer, the editor of the Tamil daily Swadesmitran, and the founder-editor of The Hindu. This job provided him with an opportunity to polish his craft as writer and poet. At the desk, he translated speeches of Vivekananda, Aurobindo, Bal Gangadhar Tilak, and wrote a poem, Vangame Vaazhka (long live Bengal), decrying the partition of Bengal.
In December 1905, he attended the All India Congress Session held in Benaras. On his way back he met Sister Nivedita, Vivekananda's spiritual daughter, and came under her spell. He then had three goals: to liberate India, fight the caste system, and liberate women.
As Subramania's writing became more and more caustic, he had to leave Swade-samitran in 1906. He was immediately grabbed by the publishers of India, a new Tamil Weekly. In 1912 he wrote three classic poems: Paanchaali Sapatham, Kuvil Paatu, and Kannan Paattu, besides translating the short stories of Tagore, scientific papers of J.C. Bose and the Bhagvadgita.
The last phase of the great poet's life was full of disappointments and difficulties. He had an attack of diarrhoea in 1920. He might have survived, but he refused to take any medicine, and thus deprived himself the pleasure of seeing his motherland free.