By Kuldip Dhiman
WHEN he was just 19, young Puran Singh was moved to tears at the sight of a four-year-old cripple who was abandoned on the steps of gurudwara Dehra Sahib, Lahore. The year was1924, and the young lad he saved and nursed would go on to be his life-long companion. "I became a mother to him," Bhagatji would recall nostalgically, "and he has been a son to me since." This experience led Puran Singh to social work and charity. And there were opportunities aplenty, what with millions lavishing on the streets and dying like dogs.Bhagat ji, or Puran Bhagat would, later in his long life, serve many such persons in need. Pointing at an ailing farmer he once remarked, "I haven't seen God, nor do I need to. But this old man is a living God"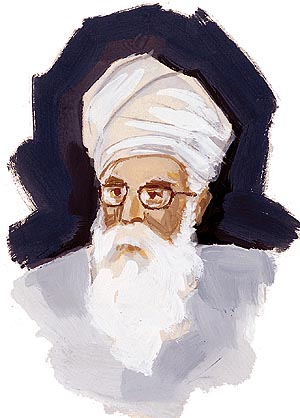 Hailing from Rajewal, Ludhiana, Bhagat Puran Singh learnt to love his fellow human beings and serve them quite early in his life, and in this his mentor was his mother, Mehtab Kaur, herself a tormented woman. Widowed at a very young age, she was taken in by a man who was already married and had children. Because of utter poverty and the stigma of living with a married man, she was forced to move to Lahore along with her teenage son. As Bhagat Puran Singh watched his mother suffer and later die, he took a vow of celibacy and service to the poor and the deprived.
After partition he came to Amritsar and was put up in Khalsa College refugee camp. He continued to serve the needy, and finally after ten years, he founded the Pingalwara (home for the destitute). It is now being run by the All Indian Pingalwara Society, a registered body.
Taking into account his meritorious work, the government honoured him with a Padam Shree, which he actually returned after Operation Blue Star. His admirers lobbied on his behalf for the Nobel Peace Prize that he richly deserved, but unfortunately he was not considered.
But great men like Bhagat Puran Singh do no work for awards and recognition. The greatest reward for him was the smile on the faces of the poor. "We are all human beings. All of us suffer and all of us need help."
http://www.tribuneindia.com/2000/20000220/spectrum/main2.htm