By Kuldip Dhiman
AFTER listening to M. S. Subbulakshmi's soulful singing at a concert, Nehru could not help conceding: "Though accustomed to public speaking, I find it not too easy to address this occasion . . . Who am I, a mere Prime Minister before the Queen of Music?" And a day before his 78th birthday, Gandhi expressed his desire to listen to the bhajan: Hari tum haro and Vaishnav jan to. His only condition was that the singer should be M.S. Subbulakshmi. Her long list of distinguished admirers include C. Rajagopalachari, who wrote some poems especially for her to sing; the Secretary General of the United Nations, U. Thant; and the Shankracharya of Kanchi. Big names aside, her popularity could be gauged by the fact that millions of households in South India wakeup to the lilting notes of her bhajans: Vishnu Sahasranamam and Suprabhatam. And you don't have to know Tamil or Telugu to enjoy her music. The voice, the range, the sheer emotional force of her rendering is enough to move even a listener who is not acquainted with the intricacies of Carnatic classical music.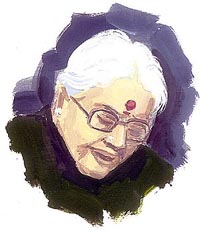 MS, as she is affectionately called, was born in Madurai, the ancient cultural capital of the South, hence the 'M' in her initials, but interestingly the 'S' stands not for her father but her mother 'Shanmuga Vadivu' instead. And it was at her mother's knee that she got her initial training in music. The two of them even sang together on stage, but soon the mother withdrew from public performances, leaving her promising daughter to hold centre stage.
When MS was barely 15, she shot into fame because the Columbia Gramophone Company recorded some of her songs, and by the time she was 17, she started getting invitations from such reputable organisations as the Madras Academy to perform. This was followed by a film offer in which she took the eponymous role of the singing saint in the film Meera.
Her marriage with Sri T Sadasivan in 1940 proved to be a fortuitous one for her, for in her husband she found not only a loving partner but also a great guide. In spite of being an extremely busy man, her husband never tried to come in the way of MS's professional career.
There have been, and indeed there are great masters of classical music, but there is something ethereal about Subbulakshmi's voice, something so natural, so effortless that although technical perfection is evident, it is the bhava or the emotional appeal that reigns supreme in her rendering.To her music is synonymous with devotion, it is an experience to be one with the Supreme.
Dr. V. K. Narayana Menon - the former Director General of All India Radio, summed up her talents succinctly when he said: "Subbulakshmi's reputation cuts right across such musical boundaries. This is not mere versatility. It is a measure of the range of her genius. She can satisfy the most exacting demands of a Mylapore (Madras) audience as well as those of mammoth gatherings in Delhi or Jalandhar. She could move a master like the late Aladiya Khan beyond measure with her Puntuvarali, and I have heard her sing Yad ave to a group of little children and move them to want to sing the song themselves."
While MS's contribution to music is quite well known, not many know that she is also a conscientious social reformer, who along with her husband, strengthened the hands of C. Rajagopalachari during the Freedom Movement, and that the money from her royalties goes to charity institutions. She was duly awarded the Magsaysay award in 1974. In 1954 the President of India honoured her with the Padma Bhushan, and in 1956 she was given the President's Award for Classical Carnatic Music. In 1963 she went to Europe for the first time to participate in the Edinburgh International Festival. She also performed at the United Nations on October 23, 1966.
And when MS was awarded the Bharat Ratna, many wondered if it was she who was being honoured by the award, or was it the other way round.
http://www.tribuneindia.com/2000/20000319/spectrum/main2.htm