LONDON in the first decade of 20th century was becoming a hub of revolutionary activities, and the man most feared by the authorities was V. D. Savarkar, a spell-binding orator, and a fire spitting writer. When his presence became intolerable, he was arrested and deported to India. The steamer that was bringing him back to India stopped at the French port of Marsielles for some repair work. Savarkar sought permission to use the toilet, and escaped from its widow and swam across to safety. Soon the French police spotted him and arrested him, he tried to tell them to take him to the magistrate, but the British bribed the French police and Savarkar was back in their custody.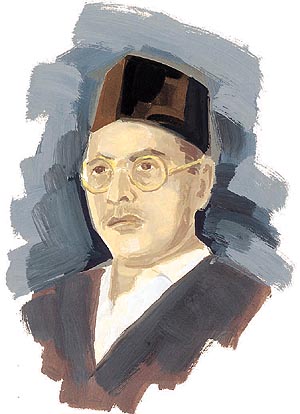 Though Madame Cama and the International Court of Justice took objected his illegal arrest on French soil, the ultimate decision was given in favour of England.
Known for his daredevilry, Savarkar was born into a Chitpavan family of Maharashtra, that has given India great leaders like Bhandarkar, Ghokhale, Tilak, Agarkar, and Pranjpye.
After matriculation he went to Ferguson College, Poona where he organised Mitra Mandali to arouse the spirit of patriotism among Indians. The Partition of Bengal and the Swadeshi Movement had a great impact on his mind. After his graduation in 1905, he transformed the Mitra Mandali into Abhinava Bharat. Later he opened its branches in England, France, America, Germany, Hong kong, Singapore, and Burma.
Thanks to Bal Gangadhar Tilak' initiative, and a scholarship, he sailed for England in 1906. Once there he started Free India Society and roped in revolutionaries like Dr. Hardyal, Bhai Paramananda, V. V. S Iyer, Senapati Bapat, and Madan Lal Dhingra. About that time he got hold of a book on making bombs, and smuggled its cyclostyle copies into India.
Being a rare combination of a man of letters and man of action, to commemorate the 50 th anniversary of the 1857 struggle, he wrote The First Indian War of Independence. The book was immediately banned by the authorities. Not the one to give up so easily, he got it published in Holland.
While in London he also qualified for the Bar, but the Inn of Court wanted his assurance that he would not take part in seditious activities.. This was not acceptable to Savarkar, and this put an end to his law career.
During his imprisonment in the dreaded jail of the Andamans, he wrote Echoes from Andamans, a vivid document describing the horrors of the black waters. He was released in 1924 because of intense public opinion. and because of his ruined health. He was allowed to go back to Ratnagiri provided he did not take part in politics. When the Congress Ministry assumed office in 1937, he was finally allowed to go free.
Savarkar revitalised the Hindu Mahasabha and countered the separatist policies of the Muslim League. He opposed the partition of India vigorously, and was convinced that Gandhi was sacrificing the interests of the nation in order to please the Muslims.
When Nathu Ram Godse assassinated, Savarkar was also implicated. At this stage he was defended by P. R. Das, the younger brother of Deshbandhu Chitranajan Das. But since nothing could be proved, he was acquitted of the charges honourably.
He was a staunch believer of the idea of Greater India, but he also believed in international peace and brotherhood. "The earth is our motherland," he once said, "mankind our nation and a human government based on equality of rights and duties is or ought to be our ultimate political goal."