By Kuldip Dhiman
HERE is one figure from Indian history who hardly needs an introduction. Born into a middle-class family, educated at an elementary school in Porbandar, and the Samaldas College, Bhavanagar, M. K. Gandhi, with his foresight and remarkable practical approach became the backbone of the Indian freedom struggle.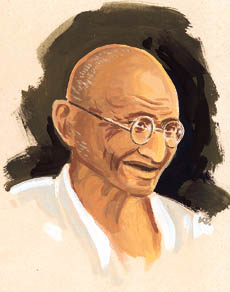 After his father's death in 1885, he was sent to England to study law so that he could take his father's place as Prime Minister of Porbandar. In London, he read Sir Edwin Arnold's translation of the Bhagavadgita, and it changed his life forever.
He came back to India in 1891, and tried to set up practice in Bombay, but failed miserably. He was then offered an assignment in South Africa by Dada Abdullah & Co. Little did he realise at the time that it would prove to be a training ground for his future struggles against the Raj. In South Africa Gandhi saw the brutal discrimination Indians were experiencing, and he began to wonder if anything could be done about it. The writings of Tolstoy, and Thoreau's suggestion of Civil Disobedience gave him direction. He then came out with his own method of defiance which he called Satyagraha.
In the beginning even his staunch followers were at pains to understand how non-violence could succeed in face of brutal face, but his triumph in South Africa convinced them in the end. Ennobled by his success, he returned to India in 1915, and plunged into the national struggle for freedom. The Jallianwalah massacre in 1919 convinced him that he could have no dialogue with the British, and total Independence became his goal. But the path to freedom was strewn with difficulties. He was shaken by the Hindu-Muslim riots of Naokhali and other parts of India. His frequent sojourns in jail, and his Quit India Movement and the Salt March are too well-known to be repeated here. Finally Independence came, but it also brought about the Partition of India and the violent massacre that followed. Gandhi had not bargained for the division of India, but his detractors held him responsible for it and eventually shot him.
Even if he had not taken part in the Independence struggle, we would have remembered him for his message of universal love, and for his efforts to abolish social evils like the oppressive caste system, poverty, religious intolerance, and inequality. "I am not interested," he used to say, "in freeing India merely from the English yoke. I am bent upon freeing India from any yoke, whatsoever."
http://www.tribuneindia.com/2000/20000102/spectrum/main2.htm