By Kuldip Dhiman
BORN into a very affluent fam-ily, Jawaharlal Nehru, could have spent his life in luxury, but he chose to give it all up for the suf-fering millions of his country.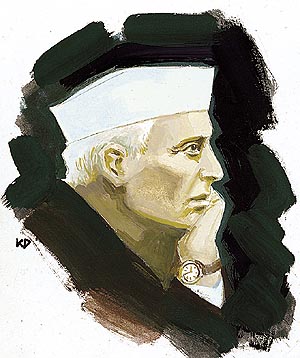 After his primary education in 1905, he spent seven years in England, first at Harrow School, then at Cambridge, and later at the Inner Temple in London where he qualified as barrister. On his return to India he gave up law and joined the freedom movement. In the beginning he was inspired by Shri Aurobindo Ghosh, Lala Lajpat Rai, Bipin Chandra Pal, Sardar Ajit Singh, and later M. K. Gandhi. He was elected president of the Indian National Congress five times, and it was under his directions that the resolution for complete independence was adopted at the Lahore session of 1929. Between 1921 and 1945 he spent nine years in jail.
After independence, he became India's first prime minister and guided India for the next seventeen years. Abroad he champi-oned the cause of the third world and along with Nasser and Marshal Tito, he became one of the founders of the Non-aligned movement. Back home, he was responsible for ushering in the green revolution, gigantic engineering projects, and the creation of Chandigarh. Nehru was not merely a politician; he had the vision of a statesman, the deep understanding and foresight of a thinker, and the sensitivity of a writer. His books Discovery of India, Glimpses of World History, and his autobiography re-flect his awesome grasp of India and the world at large.
Though Nehru believed in material prosperity he valued higher values as well: 'Without science you perish; without spirituality you perish.' His message of tolerance is relevant even today: 'It is essential for the proper func-tion of democracy and growth of national unity and solidarity that communalism should be elimi-nated from Indian life.'
Great people have admirers, but only a few of them are admired even by their opponents. Here is what Clement R. Atlee, who was Britain's Prime Minister when India won her Independence, had to say about Nehru: 'There are few, if any, parallels in history to the magnitude of Nehru's achievement, and whatever storms in future may blow up, India will be eternally grateful to the man who piloted the Ship of State on her maiden voyage with so few errors of navigation.'
Nehru never really recovered from the humiliating defeat suf-fered at the hands of China in 1962, and he died on May 27, 1964. On his desk were found these lines by Robert Frost: The woods are lovely dark and deep/ But I have promises to keep/And miles to go before I sleep/ And miles to go before I sleep.

http://www.tribuneindia.com/2000/20000109/spectrum/main2.htm