AFTER seeing the grandeur of the mighty Jog Falls in the present Karnataka State, most visitors are at a loss of words to describe its beauty, but in the visitors' book there is an unusual remark: 'Magnificent waste of energy.' And this could have come only from an engineer of Sir M. Visveswaraya's calibre. Revered by professional engineers, this genius was responsible for executing such engineering feats as the Krishanaraja Sagara Dam, Mysore, the Brindavana Gardens, Mysore, the Vidhana Sauda, Bangalore — the list is long. He was also a planner, economist, educationalist, and social reformer.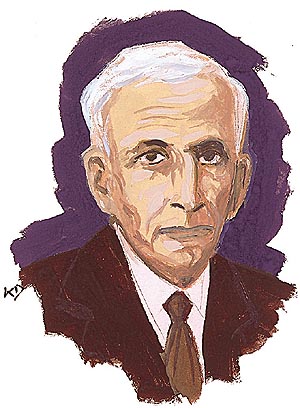 Born in a poor family in the Chikaballapur Taluk of Kolar District, Karnataka, he did not let his poverty handicap his genius. "It is a blessing to be born a poor man,' he often said, 'as one would have many opportunities to rise high in life.'
He got his primary education in his village, and then at Central College Bangalore. After graduating in 1881 he went to Poona and passed with a first class Engineering. He served as Assistant Engineer in Nasik, Khandesh and Poona, and later at Sukkur Municipality where he designed and carried out water-works schemes. His services were also lent to the Hyderabad State to supervise and carry out huge engineering works. He retired from the British Service in 1909 on a special pension. He visited countries such as Japan and China. In China he was offered the post of Chief Adviser in Engineering to the Chinese Government, but he did not accept the offer.
After retirement Sir Viswesvaraya was invited by the Maharaja of Mysore to be the Chief Engineer to the Government. In 1912 he was promoted as Dewan of Mysore, a rare honour for an engineer. A multifaceted genius, Sir Viswesvaraya was the first to suggest the idea of offering scholarships to the backward classes. He wanted women to be given equal opportunities; advocated widow remarriage and eradication of the caste system; and was instrumental in founding the Mysore Bank, the Kannada Literary Academy, and the Mysore University. He failed to start an automobile industry in Mysore, but was able to set up the Premier Automobile Company, Bombay and the Hindustan Aircraft Factory, Bangalore.
Sir Viswesvaraya was knighted in 1915, and was decorated with a Bharat Ratna in 1955.