Bangalore-based Hema Bedi had no idea that one day she would start an anti-trafficking organisation in Ananthapur, Andhra Pradesh. Six years after she set up Sthree, she is a role model for other NGOs. Recently, she was honoured by the Chennai-based Centre for Social Initiative. She talks to Kuldip Dhiman about her mission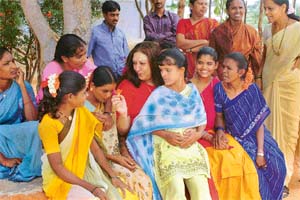 Hema Bedi with some of the rescued girls and co-workers of Sthree. — Photo by the writer
Could you give us some idea about the seriousness of the flesh trade problem, and the scale of it?
Nearly five million women and children were trafficked within the borders of India to meet the demands of big city brothel houses in 2005 alone. Of this, Andhra Pradesh's contribution is nearly 35 per cent. The allied problem of AIDS is another time bomb that is ticking, as nearly half of the trafficked girls are left to die in villages.
You believe in awareness through multiple intervention. How do you go about it?
Awareness is one thing, but it must also get translated into action. For example, when we advise family members to accept AIDS patients, we stay in the village for a night or two with the trafficked girl, eat off the same plate as hers to show that AIDS does not spread through physical contact. Then, we get alternative livelihood loans for these girls fairly quickly, increasing the confidence of other girls and the communities that had so far never seen such assistance. This helped in other victims wanting to change their lives as well as prevented others from thinking that prostitution would be the only source of income for their livelihood. Further, we were the first to offer care and support for the HIV+ members in the communities through referral linkages to an AIDS hospital in Bangalore.
You must have upset a lot of people. What sort of problems do you face?
We were threatened and attacked, but the truth of the matter is that "jo dar gaya, who margaya". We know this work is difficult and dangerous, but it is to the credit of our volunteers, our district and state police, as well as donors that we have reached so far. Besides teething trouble with the police, we created an impact on the communities and created a fear among the traffickers by filing 54 PITA FIRs and arresting nearly 59 traffickers, over the last five years. Over the last two years, things have cooled off considerably and now the traffickers are seeking help to avoid convictions.
What is the magnitude of the AIDS problem?
It is devastating. Unfortunately, too much emphasis is given to awareness raising, but little is done to ensure care and support to the victims, besides testing facilities that at a time don't give confirmatory reports for positive members. At the village level, only the rapid or Tridot elementary test is done, which will not show HIV during the window period (six months), so the patient is counselled and asked to return after six months for another check up. From experience, we know that a villager does not return for a second check up, as he/she is so relieved that his/her tests are negative. Also the sense of well being in the first three to five years or more makes him or her confident that nothing is wrong. He/she may well be positive, but no confirmatory test has been conducted, therefore he/she continue to have dangerous liaisons with all and sundry, infecting any and everybody in the process.
Once you rescue the girls, how do you help them start life afresh. What is the success rate of rehabilitation?
A rescued girl is brought to our shelter home, counselled and we prepare her to start life afresh. We teach her skills, empower her through capacity buildings, education (formal or non-formal) and hook her up to government schemes for livelihood options, land and housing loans, or free housing schemes. We also give her all round exposure through visits to other donor or NGO partners, or in making products we expose her to the marketing linkages. In some cases, we train them to have their own micro-enterprises and give them basic business management skills. The underlying philosophy is — A community empowered to produce regular income for below poverty line families will not see their women and children trafficked for sexual exploitation.