By Kuldip Dhiman
APRIL 10, 1880 happened to be the new year's day for the Telugu-speaking people, and on that day was born a son to Chirravoorni Ramasomayajulu Garu, a learned man, well-versed in the Vedas and other scriptures. The proud father was a trusted religious adviser of Maharaja Sir Vijayarama Gajapati Raju of Vizianagram. Yajaneswara Chintamani, as the newborn was named, did almost everything too early in life. He was married before he was 10, and was appointed editor of a journal at 18.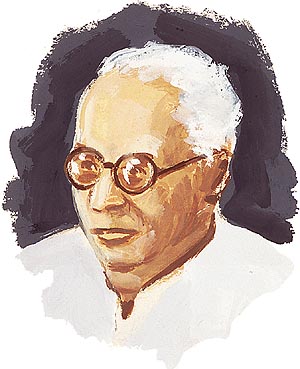 The Maharaja's son Ananda Gajapati Raju made sure that his friend Chintamani got good education at Maharaja's College. By the time he enrolled himself for the First Arts course, Chintamani was already contributing articles to journals such as the Telugu Harp. His family members were not too happy with the activities of their otherwise brilliant child. They tried to persuade him to give up his 'seditious' ways but to no avail. All warnings went unheeded and Chintamani failed his F. A. examinations. But it was not entirely as result of his activities; he was ill at the time of the examinations. He was taken sent to Visakhapatnam for treatment. But if his relations thought he would mend his ways there, they were wrong. For the young man, whose idol was Sir Surendranath Banerjea, began to move about with local political figures. His articles began to appear in the Vizag Spectator, and soon he was offered the post of editor with what was then a handsome salary of Rs. 30. He later bought the journal for Rs. 300 and moved to Vizianagram, taking the Vizag Spectator along with him. Once in Vizianagram the weekly was rechristened Indian Herald. "I was not merely the editor," he recalled later, "I was foreman, proof reader, reporter, sub-editor, and manager all rolled into one." But in spite of its great popularity, financial problems forced him to fold up the journal in about two years' time. Times were bad for Chintamani, and to make matters worse, he lost his wife. Braving misfortune and ill-health, he moved to Madras, and worked on the staff of the Madras Standard for a year or so under the editorship of the famous G. Subramania Iyer.
At the time, Chintamani himself would have laughed at the suggestion of working in Allahabad, but that is exactly where destiny took him. He was invited to work for the Leader, a newspaper founded by Pandit Madan Mohan Malviya. With the arrival of Chintamani, Allahabad would never be the same again. He nurtured the paper and turned it into one of the best in the country. Fearless and forthright, he did not hesitate to take on the management if he felt his freedom as editor was being trifled with. Within an year of his editorship, he had a clash with Pandit Motilal Nehru, the chairman of the Board of Directors. In the end, Chintamani had his way, and Pandit Motilal Nehru had to part company with the paper. On Chintamani's 60 birthday, Sir Tej Bahadur Sapru said: "Public life, thirty-five years ago in these Provinces was a stagnant pool. Chintamani stirred up its still waters and it was he who made many of us feel the need in those days of a public which could fearlessly and courageously give expression to our aspirations of those days. The result was the Leader."
Between 1927 and 1936, Chintamani was not only the Chief Editor of the Leader but also the leader of the opposition in the U. P. Legislative Council. He started his political career as a Congressman, but later disassociated with Gandhi non-cooperation and civil disobedience movements. In spite of his life-long ill-health, he continued to write for the Leader from his Council House to the very last day of his life.
http://www.tribuneindia.com/2000/20000507/spectrum/main2.htm