By Kuldip Dhiman
YOU may not have heard his name, but there is every possibility of your having seen his famous paintings of Hindu gods and goddesses. Perhaps a reproduction is even adoring the walls of your home, and if not a reproduction then at least a poor copy of his works by some artist from Sivakasi. Be it Lord Rama's court or the Jatayu attacking Ravana, or Lord Vishnu reclining, or a young girl on a swing, Raja Ravi Varma's paintings so caught the imagination of his admirers that they have run into thousands of reprints, and the demand is still great even about a hundred years after his death.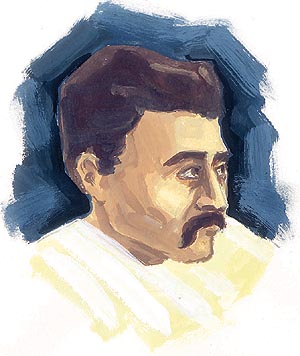 At a time when most Indian artists were working in the miniature style of the Kangra, Mughal, or Bengal school, Raja Ravi Varma came under the influence of western art, and applied its techniques on Indian subjects. He was perhaps also the first Indian artist to use oil on canvas. Although his work was not of a very high order, the success was instant.
When he began to paint his canvases, the Bengal renaissance had gained momentum, and the entire nation was experiencing a cultural revival. Suddenly nationalism was the in thing, and there was renewed interest in things Indian In came Ravi Varma with his realistic depiction of Indian mythological figures, and unwittingly become an icon of the age. As a result of inventions like colour offset and photography, painting was finding it hard to compete.
It was to counter this threat that many art schools were set up in Calcutta, Madras, Bombay and Lahore.Artists trained in these schools were said to belong to the Academic School and they tried to work on the pattern of the Royal Academy of Art. Among the Indian painters working in the late 19 th century were J. P. Ganguly, M. F. Pithawalsa, A. X. Trinidad, Hemenedranath Majumdar who continued to paint in the descriptive school until the end of the 19th and the beginning of the 20th century. And among these Raja Ravi Varma was the best known and most acclaimed. He virtually combined Victorian realism with Indian subjects with such flourish that his paintings rivalled the ever-growing popularity of photography. It should be remembered that the art of photography was in its infancy then, and colour photography had not yet come into its own.
Raja Ravi Varma not only made excellent paintings but was farsighted enough to have them printed in thousands at his own lithography press. Soon his works were seen the walls of households all over India. People who could not afford to buy expensive works of art, found an inexpensive way to satisfy their artistic sensibilities.
Art had finally reached the masses, and became truly democratic.

http://www.tribuneindia.com/2000/20000312/spectrum/main2.htm