By Kuldip Dhiman
IF ever there was a stereotype Pathan of popular fiction, it was Khan Abdul Ghaffar Khan, popularly called Badshah Khan or Frontier Gandhi. Possessing a majestic visage, and standing at 6'3", he literally towered above all Pathan leaders of his time. But unlike the rustic and naive Pathans of fiction, Badshah Khan was a very polished and educated gentleman.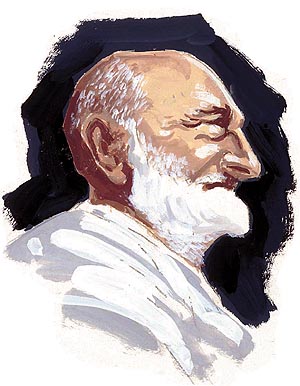 Although he was a devout Muslim, he was no religious bigot. He used to tell his admirers, "My religion is truth, love and service to God and humanity. Every religion that has come into the world has brought the message of love and brotherhood. Those who are indifferent to the welfare of their fellowmen, whose hearts are empty of love, they do not know the meaning of religion."
Badshah Khan belonged to a highly respectable family of Pathan chiefs of Utmanzai in Hastnagar in the NW Frontier Province of British India. In his autobiography My Life and Struggle he says that there is no record of the exact date or year of his birth.
Badshah Khan got his early education in a mosque, but he soon realised that " the Mullahs were not aware of the true meaning of religion and very often they insisted that children should not ask any questions but should merely devote themselves to learning by rote and recitation." For his primary education Badshah Khan went to Municipal Board High School, Peshawar, and for higher education to Edwards Memorial Mission High School. But before he could complete matriculation he joined the army, and was attached to a regiment called 'The Guides'.
Being a Pathan, he took to army life like a duck takes to water, but one day, when he saw a Pathan being humiliated by a British officer, Badshah Khan was so upset that he left the army, and resumed his education. Sometime later Badshah Khan was all set to go to England for higher studies, but when he saw his mother cry, he gave up the idea and decided to devote his life to the service of his people. He actually plunged into active politics in 1919 by opposing the infamous Rowlatt Act. He was arrested and later released. As he got more and more involved in the freedom movement, he came into contact with the Congress, and attended the Nagpur session in 1920. He also played an active part in the Khilafat movement, and as a result, he was arrested in 1921 under the Frontier Crimes Regulations for spreading nationalistic ideas among the Pathans. He was kept in solitary confinement, with his hands and feet tied. After his release in 1924 he came to be known as Fakhr-e-Afghan.
Since he believed that ignorance was the main cause of the backward nature of his province, he started a newspaper in Pashtu called Pakhtun, and in Afghanistan another one called Jagh Pakhtun. In 1929, he started the Khudai Khidmatgar Movement. And when Gandhi started the Civil Disobedience Movement in 1930, Badshah Khan joined it with full enthusiasm.
In 1931 the Congress offered him the presidency of the party, but he refused saying, "I am a simple soldier and Khudai Khidmatgar, and I only want to serve." But he remained a member of the Congress Working Committee for a long time, resigning only in 1939 because of his differences with the Party's War Policy. He rejoined the Congress Party when the War Policy was revised.
Then came freedom, and with it the man-made disaster called Partition. The British did not want the North West Frontier Province to be a separate unit or to be a part of independent India. Although a clear election victory had been achieved by Badshah Khan and his Khudai Kidhmatgars, a referendum was ordered. This was opposed and rejected by Badshah Khan, and he asked his people to boycott it. As a result the Muslim League had its way and the NW FP was annexed to Pakistan. For Badshah Khan, it was the greatest betrayal of all.
This really broke his heart, but he did not give up the fight for the common man in the newly formed Pakistan with his Khudai Khidmatgars. Unfortunately democracy was always shaky in Pakistan, and he had to battle it out not only with the generals but also with democratically elected leaders, in the end making himself a liability. He was imprisoned a number of times for his liberal views, and in the end he died a heart broken man.
http://www.tribuneindia.com/2000/20000305/spectrum/main2.htm