THE year 1898 saw the publication of Bhai Vir Singh's novel Sundari, a landmark in modern Punjabi literature. Some critics went so far as to call it the first novel of the Punjabi language. The plot dealt with the trials and travails of a small Sikh community during the Mughal Empire in the 18th century. This immensely popular novel ran into 35 editions, and was followed by Bijay Singh and Satwant Kaur, both novels. Then came Rana Surat Singh, often described as an epic poem. In this book, the poet paints a poignant picture of the lonesome life of a widowed queen, Raj Kaur. It has more than 1200 lines of some of the best poetry written in Punjabi. With this volume, Bhai Vir Singh began to write verse more regularly, ending up with an output of more than 500 poems. He also wrote three excellent biographies: Sri Kalgidhar Chamatkar (1925), Sri Guru Nanak Chamatkar (1928), and Asht Gur Chamatkar (1951). He wrote only one play, Raja Lokhdata Singh, and did not write any novels after 1907. But he continued to write poetry and scholarly work.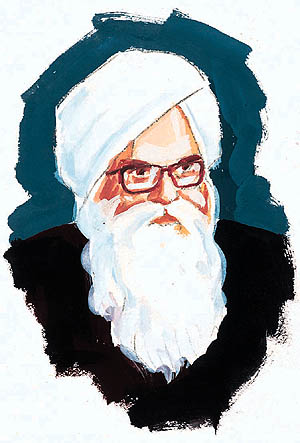 Bhai Vir Singh was born into a family of scholars, and he grew up in the holy city of Amritsar. He finished his Matriculation winning the district board's gold medal. When he was still at school, he was married to Bibi Chattar Kaur.
Considered to be the harbinger of modern Punjabi literature, Bhai Vir Singh wrote prose, novels, poems, plays and historical research. He also started publishing Khalsa Samachar, the first Punjabi daily. Through the pages of Khalsa Samachar, he tried to bring about social and religious reform such as importance of education, equal rights to women, abolition of the caste system, and so on. He established the Khalsa College in Amritsar, and with the help of Wazir Singh, he set up a lithographic press in Amritsar in 1892. The following year he started the Khalsa Tract Society with a view to serving the country and the Khalsa Panth. He was a great scholar not only of Sikhism but also of Hinduism, Buddhism, Christianity and Islam.
Bhai Vir Singh also edited and published Prachin Panth Prakash and Janamsakhi, the life-story of Guru Nanak Dev. He organised the Chief Khalsa Diwan, a representative body of the Sikhs for bringing about religious and social reforms. SInce very few cared to get themselves educated during his day, he formed the Sikh Educational Committee for spreading of education.
"For understanding different religions," he used to say, "the emphasis is not so much on points of similarity as on uniqueness. There are many things common between a cow and a buffalo; but the cow and the buffalo are not the same."
Bhai Vir Singh inspired novelists like Nanak Singh, Bhai Mohan Singh Vaid, Charan Singh Shahid, Master Tara Singh, and Gurbakhsh Singh.
Panjab University conferred on him a doctorate in Oriental Learning, and the Sahitya Akademi awarded him its first annual award for outstanding contribution to Punjabi literature. He was also awarded the Padma Bhushan. He was nominated member of the Punjab Legislative Council in 1952.
"Bhai Vir Singh is one of those representative Indians," Dr Radhakrishnan said while evaluating the great poet's contribution to Indian literature, "deriving inspiration from the classical wisdom of our land and living it before our eyes."