By Kuldip Dhiman
THE release of director Prakash Mehra's blockbuster Zanjeer in 1973, took the film industry by storm. In an industry dominated by chocolate-faced heroes, here was an actor who did not sing or dance, and barely smiled in the entire film. Zanjeer had been turned down by no fewer than five top actors because they felt the role wouldn't be accepted by filmgoers. The film's protagonist was a rugged and lanky young man who takes on the under-world single handedly and brings it to its knees. The audience loved him, and the 'angry young man' was born.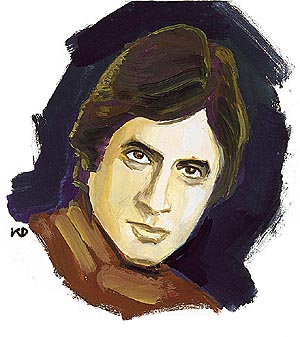 Amitabh had actually got his break in Khwahja Ahmad Abbas's Saat Hindustani a couple of years earlier, but had gone unnoticed. A long list of hit films like Deewar, Sholay, Trishul, Namak Haram, Don, Majboor etc., followed, and Amitabh was to rule the Hindi film world for the next two decades or so with hardly any opposition worth mentioning. Later in his career he once again surprised his fans by his comic portrayals in films like Chupke Chupke and Amar Akbar Anthony. Until recently this one-man-industry literally towered over all other actors, and his name on the billboard was enough to make a film a hit.
There have been very popular actors before, but the Amitabh Bachchan phenomenon defies analysis. Here is a man who is loved by men and women of all age groups, stations, and religions. Amitabh is himself at a loss to understand his unprecedented success. He often recalls incidents like the one when a little girl refused to take food or medicine until
'Anthony Uncle' came over and fed her. Her condition was critical, then someone requested Amitabh to visit the little girl. The star was so touched that he went to the hospital and fed his little admirer. His serious accident while shooting in Bangalore, united the entire nation. Thousands of people held mass prayer meetings for him in Bombay, Bangalore and other cities. Had he not survived, people would probably have deified him.
http://www.tribuneindia.com/2000/20000109/spectrum/main2.htm