By Kuldip Dhiman
BEING a poet, writer, novelist, playwright, actor, musician, and painter, Rabindranath Tagore was the very quintessence of the universal man as idealised by the intellectuals and artists of the Italian Renaissance. He tried his hand at writing poetry when he was barely eight, and before he was 15, his work began to appear in print. In 1887 Tagore wrote Manasi, his first fully mature work. Other works such as Chitrangada, Sonar Tari, Chitra and Sadhana followed, winning him wide acclaim. Apart from learning the arts and the sciences at a very young age, Tagore was very particular about his physique. He could swim the Padma (Ganges) at the Tagore estates, or walk 25 miles in the hills at a stretch. As a child, wrestling was part of his home-based education. He is supposed to have introduced judo into India.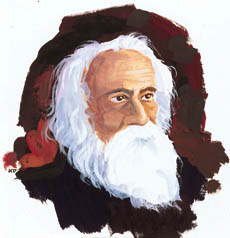 In 1905, Lord Curzon's decision to Partition Bengal shook the poet, as well as the rest of India. The members of the Swadeshi Movement were up in arms, but they were proving to be ineffectual because they did not have a good leader who could mobilise the masses. At such a juncture, Tagore was their only hope. Had Tagore accepted the offer, he well might have become the main leader of India's freedom struggle, but that honour was reserved for M. K. Gandhi since Tagore did not wish to get involved in politics. Much later when Gandhi invited him to spin cotton, he said: 'Poems I can spin, Gandhiji, songs and plays I can spin, but of your precious cotton what a mess I would make!'
In 1912 the renowned artist Sir William Rothenstein read Tagore's Gitanjali, and immediately brought it to the attention of W. B. Yeats. They later arranged for the publication of the book that won the Nobel Prize for its author in 1913.
From his early days, Rabi was averse to formal education. In a film on Tagore, Satyajit Ray remarked: 'Rabi went to four schools and hated them all.' Much later in life Tagore said: 'The main object of teaching is not to give explanations, but to knock at the doors of the mind. If any boy is asked to give an account of what is awakened in him by such knocking, he will probably say something silly. For what happens within is much bigger than what come out in words. Those who pin their faith on university examinations as the test of education take no account of this.' In 1918, Tagore realised his most cherished dream of laying the foundation of the Visvabharati University at Santiniketan.
http://www.tribuneindia.com/2000/20000102/spectrum/main2.htm