By Kuldip Dhiman
WHEN Lord Curzon announced the partition of Bengal, he would not have known then that his dicision would give birth to so many revolutionaries such as Khudiram Bose, Aurobindo Ghose, and Rash Behari Bose. GIven the circumstances, it was natural for J. B. Kripalani, a energetic young man from Sind, to find himself i the grip of patriotic spirit. Being a trenchant critic of the oppressive policies of the British, he started an agitation in Wilson College, forcing theauthorities to transfer him to D. J. Sind College, Karachi. There, too. he got himself in trouble because of his political activities.When the principal of the college remarked that Indians were liars, Kripalani organised a strike.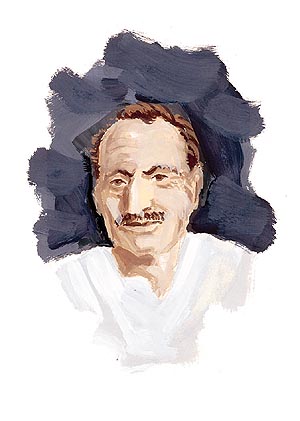 He nevertheless managed to get through his education despite his activities, taking a master's degree in history and economics from Ferguson College Poona. From 1912 to 1917 he worked as Professor of English and History at Muzaffarpur College, Bihar. It was while working for Bhumidar College Muzafarpur in Bihar, that he came under the influence of Gandhi, and gave up his job in 1917.
He served as secretary to Madan Mohan Malaviya, and it was he who got him back to academic life by appointing him as professor at Banaras Hindu University. But Kripalani left the university in 1920 to join the Non-cooperation Movement. Taking a cue from Gandhi, he set up an Asharam at Meerut in order to uplift the villagers of Uttar Pradesh, Madhya Pradesh, and Delhi. He served as Principal of Gujarat Vidyapeeth until 1927. He was so popular that his students bevan to call him 'Acharya' Kripalani. He was secretary of Congress for over a decade.
From the late twenties he devoted himself wholly to Congress work. He steadily built up his position in the organisation, and from 1934 to 1945, he served as the General Secretary. He was arrested in 1942 for his part in the Quit India Movement, and released in 1945. The following year he ws elected President of the Indian National Congress.
When at the age of 50 he married a girl named, Sucheta, . Gandhi was upset. He said to the girl, "By marrying Kripalani, you will be cutting off my right hand." Not to be outdone, Sucheta replied, "Why cannot you think that you will be gaining an additional hand for your work."Nehru was the best man at the marriage that took place at Anand Bhavan.By sharing the responsibilities of her husband, she proved Gandhi's fears wrong.
After Independence, he gradually drifted away fron Congress, and finally resigned from the Congress Party in 1951. Kripalani wanted the organisational wing and legislature wing of the Congress Party to be clearly defined so that the Government did not become autocratic. When he saw this was not happening he resigned the Presidentship.
Kripalani beleived that opposition was essential for a vibrant democracy. Since there was hardly any opposition to the gigantic stature of Nehru, he founded Kisan Mazdoor Praja Party as an alternative to the ruling Congress. Unfortunately this move was not very effective at the time, and Kripalani withdrew to teaching and social service. But he did have the satisfaction of seeing a viable opposition appear in 1977 with the formation of Janata Party. He backed Morarji Desai for PM. Unfortunately the Janata Party did not last long, and this was a blow to his hopes. Acharya Kripalani was a great social thinker and writer who has to his credit a numer of books on Gandhian philosophy: The Gandhian way, The Ganchian Critique, The Indian National Congress, and The Politics of Charkha.
This untiring fighter of freedom died on March 19, 1982, of respiratory and cardiac arrest at Ahmedabad.
http://www.tribuneindia.com/2000/20000305/spectrum/main2.htm