MAY 18, 1974:The countdown had begun to detonate the 'device'. Dr Raja Ramanna and his team of scientists waited with bated breath. 'A wireless relay of the counting was made audible to the photographers so that they could prepare themselves when the count reached five. For some reason the photographers cut off the counting relay at six and after that we heard nothing. We thought the worst had happened, and something had gone wrong, but about five seconds later, right in front of us, the whole earth rose up as though Lord Hanuman had lifted it.' And with that India made a giant leap into the nuclear age.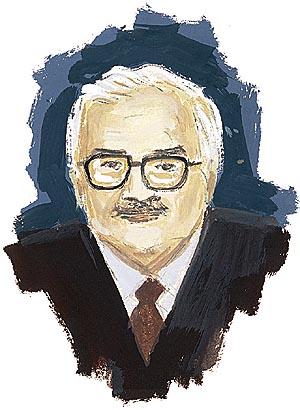 India's leading nuclear physicist, Prof Raja Ramanna was born into a distinguished family that had its connections with the Royal Court of the erstwhile Mysore State. B. Venkatachar, his grandfather's brother was a great Kannada novelist, who had also translated the novels of Bankim Chandra Chatterji into the Kannada. His father, B. Ramanna, was a judge in the Mysore state, and his mother Rukminiamma, was an exquisite lady, well versed in Indian classics as well as Shakespeare Dickens, and Walter Scott. When Dr Ramanna was born, they named him Bindignaville Krishnaraja Ramanna, but later they decided to shorten the tongue-twister to Raja Ramanna.
Dr Ramanna went to Bishop Cotton School in Bangalore, and later graduated from Madras Christian College. He got a doctorate from the London University in 1948. Back in India, he joined the Tata Institute of Fundamental Research. The young scientist was transferred to the Atomic Energy Commission (later renamed - BARC - Bhabha Atomic Research Centre) in 1953 where he took charge of the Nuclear Physics Division. By 1972, he rose to the position of Director of the BARC, and the following year he was appointed part-time Chairman of Bharat Electronics Limited (BEL).
Dr Raja Ramanna is best known for the crucial role he played in designing India's first reactor, Apsara, and later the fast reactor, Purnima, and of course the successful nuclear test at Pokhran.
Author of several scientific papers and Years of Pilgrimage, an autobiography, Dr Ramanna is a Fellow of the Indian Academy. He was given the S S Bhatnagar Award for Physical Sciences in 1963, a Padma Shri in 1968, a Padma Bhushan in 1973, a Padma Vibhushan in 1975, the Pandit Jawaharlal Nehru Award (1983), Meghnad Saha Award (1985), and R. D. Birla Memorial Award in 1985-86. He was Minister of State for Defence from December 1989 to November 1990.
Dr Ramanna is a rare combination of science and art. He is an accomplished and acclaimed pianist. He took a diploma of licentiate of the Royal School of Music in 1940, and studied music at Trinity College, London.