By Kuldip Dhiman
PROF Shanti Swarup Bhatnagar, has had the unique distinction of failing his B. Sc.. Examinations for having written the right answers!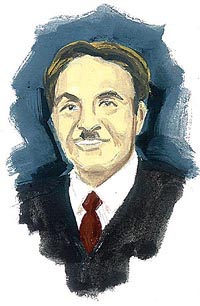 One of the questions pertained to the X-rays, their properties and applications in chemistry. Bhatnagar had read in a German magazine that X-rays could be reflected, refracted and polarised, just as ordinary light. And this is what he wrote as his answer. In his enthusiasm he forgot that Mellor's textbook of Inorganic Chemistry, his outdated college textbook, said otherwise. His teacher who was not aware of the latest developments in the world of science, was furious, and promptly marked all his answers wrong. The young student, nevertheless, got his degree with excellent marks in 1906.
For a great scientist and administrator that he later became, Professor Bhatnagar rose from very humble beginnings. He was appointed Educational Adviser to the Government of India, succeeding Sir John Sargent. He worked in close association with Maulana Azad, and got along with other leaders as well especially with Nehru, prompting Sir C. V. Raman to call their association the 'Nehru-Bhatnagar Effect'.
In fact Nehru is reported to have said: "I would like to pay a tribute to Dr. Bhatnagar, who, I think, has done, I say this with respect to others, more than anyone else for the scientific development in India. I can truly say that but for Dr. Bhatnagar, you could not have seen today the chain of National Laboratories in India."
Prof Bhatnagar's motto in life was that 'actions must follow when mind's eye is able to visualise the practical possibilities'.
Born in Bhera, Shalpur district, now in Pakistan, his father was a distinguished alumnus of the Punjab University. Bhatnagar did his schooling in A. V. High School, Sikandrabad, Uttar Pradesh. But after the death of his father he went back to Lahore and got himself enrolled in Dayal Singh High School, supporting himself by giving private tuition. And since the Brahmo Samaj was a powerful social movement of the time, he got drawn towards it.
But it was not religion, politics, or social reform, but science his first love. As early as in 1911 he published a letter in the Leader of Allahabad describing a method of making a substitute of carbon electrodes in a battery by heating molasses and carbonaceous matter under pressure and heat. What was unusual about it was that the suggestion came from a boy who was just 17 years old.
Bhatnagar then went to Dayal Singh College where his English professor P. E. Richards and his wife Norah Richards were a source of great inspiration to him. Norah drew him towards theatre, and he played the roles of 'Puck' in The Midsummer Night's Dream, and 'Monsieur Jacques' in As You Like It. He even went so far as to write a play titled Karamati. Not many know that in memory of his dear wife, who died in 1946, he wrote a book of poems called Lajwanti.
His flirtation with the arts notwithstanding, Prof Bhatnagar got his D. Sc.. from the London University in 1921, after having worked with Prof Donnan on the 'Inversion of Emulsions'. On his return to India he was appointed University Professor of Chemistry at the Banaras Hindu University. Honour after honour followed, to begin with a fellowship of the Royal Society in 1943.
Prof Bhatnagar's work with the Board of Scientific and Industrial Research took him first to Calcutta, and later to New Delhi. He realised quite early that if India has to become a major player in the world, she must groom young scientists at home. And the after Independence he set up a chain of National Laboratories such as the National Chemical Laboratory, Pune, the National Physical Laboratory, New Delhi, the National Metallurgical Laboratory, Jamshedpur, the Central Food Technology Research Institute, Mysore, the Central Fuel Institute, Dhanbad, just to name a few.
http://www.tribuneindia.com/2000/20000319/spectrum/main2.htm