By Kuldip Dhiman
DELHI, December 12, 1912: Five men join a huge procession organised to welcome Lord Hardinge. While thousands have gathered to greet their new ruler, these five have other ideas. As the entourage reaches Dhulya Katra, near Chandni Chowk, a powerful bomb explodes. Twenty people die, but the main target, Lord Hardinge, escapes unhurt.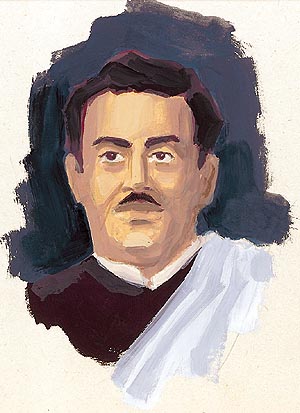 In the manhunt that follows, Master Amir Chand, Avadh Behari, Bal Mukund, and Basanta Biswas are rounded up, and later hanged. But the most daring and the most charismatic of them all, Rash Behari Bose, manages to escape the police dragnet, thanks to his flawless disguise.
Warning the authorities about the revolutionaries, Lord Hardinge, in one of his dispatches said: "The most dangerous of them is Rash Behari Bose who has now escaped to Japan. His Majesty's Government should bring pressure on the Foreign Ministry of the Japanese Government for immediate extraction of this arch enemy of the Indian Empire who planned an armed revolt among the rank and file of the army." What better tribute a revolutionary can expect? Writing about the impact of this act in his book The Indian Unrest., Sir Valentine Chirol said: "The throwing of a bomb on a Viceroy during his state entry into the new capital of Delhi had tremendous effect on the subsequent revolutionary upheavals which shook India. The detonation started by Rash Behari Bose did never die away. It was he who planned the second sepoy mutiny, which if it succeeded, would have shattered the British Empire in India."
The partition of Bengal was responsible for creating many a revolutionary. In the uprisings that followed, Khudiram Bose was arrested for his part in the Alipore Conspiracy, and hanged on August 11, 1908. Rash Behari Bose was deeply moved by the sacrifice made by him and other revolutionaries. He took it upon himself the task of breaking the fetters of bondage. For this he set up a centre at Banares, where he made his plans for the 'Second War of Independence'. As per plan, the revolutionaries were to meet in Lahore, and on February 21, 1915, a revolution would be triggered off in army barracks all over India. Every thing was organised, but one Kirpal Singh informed the police, and the revolution fizzled out. Rash Behari Bose was on the run again.
It is amusing to learn that this dare-devil was initiated into the path of revolution when in school he became a friend of one Shirish Chandra Ghosh. While others thought of taking to arms or non-violence, these two, in all their naivete, believed that they could liberate India by black magic!
When he came of age, Rash Behari Bose tried to get into the army, but he was turned down as the British did not admit Bengalis into the army. He worked for a while for the Government press, Shimla, then at
the Pasteur Institute, Kasauli, and later at Dehradun, but he never really enjoyed it, as he had other goals in mind.
At the outset of World War I, Indian revolutionaries were expecting German help. Rash Behari Bose came in contact with Dr. Hardayal and the Ghaddar Party. As the police closed in, he was forced to flea to Japan. When Rabindranath Tagore was about to go to Japan, Bose claiming to be a distant relation of the great poet, left Calcutta on May 12, 1915 under the assumed name of Raja P. N. T. Tagore. He pretended to be the tour organiser. Some scholars hold the view that Rabindranath Tagore was aware of Bose's impersonation, but he kept quiet. Once in Japan, he began to make plans for the final assault on the Empire. But as Japan was an ally of Britain in World War I, Rash Behari was forced to marry a Japanese girl, and become a Japanese citizen in order to avoid deportation.
When World War II started, Rash Behari with the help of Captain Mohan Singh, and Sardar Pritam Singh, formed the Indian National Army. On September 1, 1942, the INA was formally established with Rash Behari as President. By then he was in his sixties, and his health was in a bad shape. A selfless patriot, he passed on the torch of freedom to the young and charismatic Subhas Chandra Bose, when the latter arrived in Singapore on July 2, 1943 and assumed charge as Supreme Commander of the INA.
After that Rash Behari Bose slowly faded away from public memory, and today he is a forgotten man.