By Kuldip Dhiman
DURING his State visit to Britain in 1963, the then President of India, Dr. S. Radhakrishan, suddenly asked his driver to make a detour and take him to the offices of the famous publisher Allen & Unwin. Surprised at the President's behaviour, his aides reminded him that as he was on an official visit, his programme could not be changed. But the President was firm:"Tell the driver to wherever Allen & Unwin are, and I should like to see Allen whom I know very well." Later when. Allen found the President of India at his doorstep, he nearly fainted:"'Mr President," he managed to say, "why didn't you inform me? I would have made proper arrangements."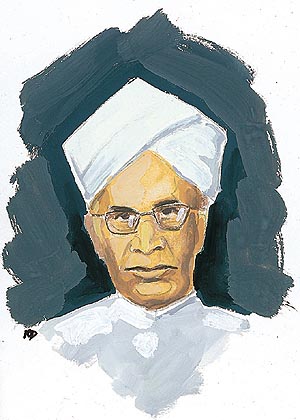 "Never mind the arrangements," Dr Radhakrishanan said with a smile, "I have come to find out how my books are selling."
It is rather disturbing to note that while we had some highly educated men and women as our leaders 50 years ago: Nehru, Dr Ambedkar, Dr Zakir Hussain, Sarojini Naidu, to name a few, how many of our present leaders can boast of such distinguished credentials. Dr Sarvepalli Radhakrishnan could, and he was perhaps the very embodiment of Plato's Philosopher King.
The second of two children, Dr Radhakrishnan was appointed teacher at Madras Presidency College in 1909. Seven years later, he was transferred to Rajamundry, and was later invited to Mysore to occupy the Chair of Philosophy. By then he had made his mark in the academic world with his well received The Philosophy of Rabindranath and The Reign of Religion in Contemporary Philosophy. In spite of his busy schedule as a teacher and an administrator, he wrote more than 150 books and numerous research papers in his lifetime.
In 1926, he was deputed by Calcutta University as the university delegate to the Congress of the Universities of the British Empire. Once there he was approached by many universities and societies to deliver lectures. It was during this tour that he delivered his famous Upton lectures at Manchester College. They were subsequently published as The Hindu View of Life. From England he proceeded to the USA to attend the International Congress of Philosophy. He was elected Fellow of the British Academy in 1940, first Indian to be thus honoured.
After Independence, when Nehru decided to send Radhakrishnan to the Soviet Union as ambassador, many wondered how a scholar would deal with a dictator like Stalin. Not only did Radhakrishnan have a successful stint there, he also got along very well with Stalin. Impressed by his track record, he was made the Vice-President in 1952, and 10 years later the President of India. In December, 1964, Pope Paul VI visited India and made him Knight of the Golden Army of Angels, the Vatican's highest honour for a Head of State.
There were many interpretations of Indian scriptures and philosophy, but Radhakrishnan was perhaps the first Indian philosopher to present to the world the deeper aspects of Indian philosophy. He was truly India's cultural ambassador to the world. After listening to him, one English lady was prompted to say, "There is no need for us to send missionaries to India."
Radhakrishnan had great respect for all religions of the world. "My religious sense," he used to say, "did not allow me to speak a rash or a profane world of anything which the soul of man holds or has held sacred. The attitude of respect for all creeds, this elementary good manners in matters of spirit, is bred into the marrow of one's bones by the Hindu tradition.''
http://www.tribuneindia.com/2000/20000130/spectrum/main2.htm