Text and Illustrations by Kuldip Dhiman

AMONG the hundreds of young men who were thrown into jails all over India for their part in the struggle for Independence, there was one Balakrishna Menon. After languishing for months in prison, he had contracted typhus fever. The jail officials were anxious that he did not die on them, so they literally threw him out on the streets to die. But the prisoner was saved by a kindly Indian Christian woman. She nursed him and helped him come back to normal. She reminded him of his mother he lost when he was barely five.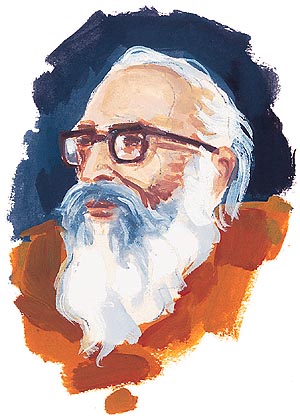 Balakrishna Menon grew up in Ernakulam, Kerala, in an aristocratic family. As a child he was very naughty with an excellent sense of humour which he did not lose all his life. After his school education he went to Lucknow University were he studied English literature and law. Being articulate and outspoken, he was very active on the campus, and took part in plays. He was member of the literary club, the debating club, and was also in the the university tennis team.
But those were turbulent times. The year 1942 particularly witnessed important revolutionary movements, and Balakrishna jumped into the fray. He was involved in writing and distributing leaflets, organising public strikes and giving speeches. All this did not go unnoticed by the police, and soon he was behind bars.
In 1945, he moved to Delhi to join the editorial staff of the The National Herald. About this time, he came across some books by Swami Sivananda, Vivekananda, Ram Tirtha, Aurobindo, Ramana Maharshi and others. Acetic life had its attractions, but being the skeptic that he was, he decided to go to the Himalayas to see it for himself. Thus in the summer of 1947, we see Balakrishna arriving at Swami Sivananda's ashram eager to find the Eternal Truth. After a few deliberations, he renounced the world on the 25th of February 1949 assuming the name of Swami Chinmayananda Saraswati. He spent the next decade visiting various sages, and discussing eternal questions with them. He also studied the scriptures at the feet of Sri Swami Tapovan in the high Himalayas in Uttarkashi.
Swami Chinmayananda was appaled by the fact that majority of Indians had no appreciation of their religious heritage, and that spiritual learning was given to only the privileged classes. From then on his only mission in life was to take religion from classes to the masses, and to "convert Hindus to Hinduism". He told his guru, "I feel the immense urge to go down to the plains and share the wealth of the holy scriptures with my fellow countrymen. I want to run down like a Ganga which nourishes and inspires with its refreshing waves."
If he thought the task was going to be an easy one, he was wrong for he faced stiff opposition from the orthodoxy. But he was not the man to be baffled by such obstacles, and he carried on with his goal of the democratisation of religion. For 42 years, braving ill health and opposition, he relentlessly carried on giving lectures in India and the rest of the world teaching the importance of spiritual knowledge in everyday life. He wrote simple easy-to-understand commentaries on major Vedantic texts, besides writing a number of books.
In order that Vedantic knowledge was brought to every corner of the world and every avenue of life Swamiji started The Chinmayananda Mission, and opened ashrams in India and America where a number of young spiritual teachers were trained in the gurukul tradition. The Mission sponsors 62 schools in India, where apart from the normal school curriculum, children learn about the Vedic heritage. The main ashram in India are in Bombay, and in Himalayas in Siddhabari. In America ashrams are in Piercy, San Jose, Washington, Chicago, Flint, New York State, and Florida. All his life, he taught the importance of spiritual knowledge in everyday life., and reminded the world that spirituality was our birthright. He explained philosophy of ancient scriptures with logic of science laced with humour.
Swamiji paid special attention and affection to children, for He saw them as the builders of the future. For them he organised the Bal Vihar and Yuva Kendra classes, which he called children's clubs.
In 1992, Swami Chinmayananda gave an address at the United Nations titled "Planet in Crisis". He was selected president of Hindu religion for the Centennial Conference of the Parliament of World Religions in Chicago, where Swami Vivekananda had captured hearts about a hundred years ago.