By Kuldip Dhiman
IT all began on Baisakhi Day in the year 1919. A crowd of about 20,000 people had gathered at the Jallianwala Bagh to listen to their leaders. But in all their enthusiasm, the crowd had violated an order prohibiting public meetings. As the leaders spoke and decried the draconian laws of the government, General Dyer arrived with a posse of soldiers and, in order to teach the crowd a lesson, opened indiscriminate fire without a word of warning. A total of 1650 rounds were fired, 379 men women and children were killed, and 1500 seriously wounded.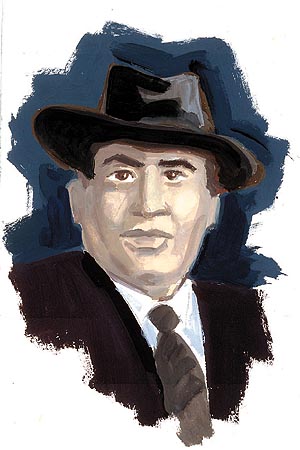 Among the crowd was a young man named Udham Singh, who on that fateful day had volunteered to serve water at the gathering. As bullets rained, he ran for cover and witnessed the gruesome slaughter of his countrymen.
The massacre was masterminded by Sir Michael O'Dwyer, the Governor of Punjab who was determined to stop the meeting. Earlier in the week he had warned the people of Amritsar: "I will do all men to death if they defied." He assigned Brigadier General R. Harry Dyer, stationed in Jallundur, for controlling the situation, and to stopping at nothing.
Now Udham Singh's only aim in life was to avenge the death of his countrymen, and he vowed to kill Sir Michael O'Dwyer and General Dyer.
Son of a poor farmer Tehal Singh, Udham Singh lost his mother when he was barely three. Although he was deprived of motherly love, he was quite courageous and brave. It is believed that, once while he was working at a timber estate, a leopard attacked him and other workers. While everyone ran for their lives, Udham Singh stood his ground and fought with the tiger and shooed him away.
But bad days were ahead as his father died soon, and Udham Singh and his siblings had to live with a relation of theirs. Life had become miserable for them because later they were forced to take asylum in the Central Khalsa Orphanage in 1907.
When Udham Singh came of age, he met revolutionaries like Lala Lajpat Rai and Mota Singh. Fate took him to various parts of India, and then to Mombasa, East Africa. He dodged the police by assuming various aliases such as Sher Singh, Ude Singh, Ram Mohammad Singh Azad, and Frank Brazil. After reaching the United States of America, he got in touch with the revolutionaries of the Ghaddar Party.
In spite of the miseries engulfing him, Udham Singh did not forget the sole mission of his life. He finally left for England where he came in contact with other freedom fighters. During one of his secret meetings, his attention was drawn to a poster announcing a meeting of the East India Association and the Royal Central Asian Society, at Caxton Hall. The poster displayed the names of the speakers, and among them were Lord Zetland, Secretary of State for India, Sir Louis Willam, former Under Secretary to the Governor of Punjab, but most importantly Sir Michael O'Dwyer, former Governor of Punjab, and the planner of the infamous Jallianwala Massacre. Udham Singh knew just then and there that his hour had arrived.
On March 13, 1940, when the meeting was in progress, Udham Singh finally caught up with Sir Michael O'Dwyer after 21 years. He managed to get into the hall, and waited patiently for the right moment, and when the opportunity presented itself, he confronted Michael O'Dwyer and fired six shots into his body. Utter pandemonium followed and at the end of it Udham Singh was overpowered, and arrested. While awaiting his sentence, Udham Singh tried to escape but unfortunately he was betrayed by an informer.
A true patriot that he was, Udham Singh showed great courage in the face of death. In stead of defending himself, he told the court: "I did it because I had a grudge against him [Michael O'Dwyer]. He deserved it. I do not care. I do not mind dying, what is the use of waiting until you get old . . . I have seen people starving in India under British Imperialism. I am not sorry for protesting. It was my duty to do so just for the sake of my country. I do not mind what sentence I get, 10, 20, or 50 years or be hanged. . . . What greater hounour can be bestowed on me than death for the sake of my motherland."
http://www.tribuneindia.com/2000/20000220/spectrum/main2.htm