By Kuldip Dhiman
KARACHI, October 15, 1932: Hundreds of people are waiting in anticipation. The ground crew are making their final check. Just then a dashing young man enters the cockpit and occupies the pilot's chair. He starts the plane and takes off to Bombay, ushering India into the age of civil aviation.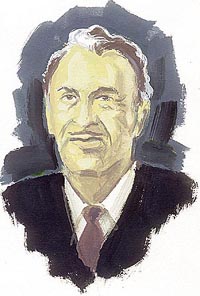 J. R. D. Tata or 'Jeh', as his dear ones called him, spent his childhood and youth in France, and that explains his former French citizenship. But in 1919 his father sent him to England because he wanted his son to learn good English, and also study in at a good university. JRD began his studies in earnest, but because his mother was dying of tuberculosis, he decided to stay back and look after her. In 1923 he began to make plans to go to Cambridge, but just then the French government made conscription compulsory for all men above the age of 20. So we find young JRD being enlisted in Le Saphis, a regiment of the French Army. But the fact that he could not finish his university education haunted him all his life, and also gave him a sort of inferiority complex.
A handsome young bachelor that he was, his attention was soon attracted by Thelman, a beautiful girl, and they took the nuptial vows in 1930. Like most rich heirs, JRD was fond of fast cars and planes. The following year he got a pilot's licence, and participated in a race for the Agha Khan prize of £ 500 for the first Indian to fly between India and England from either end. While he flew from Karachi to London, the winner, Aspy Engineer flew from the other direction.
With the death of Sir Nowroji Saklatvala in 1935, JRD, at the age of 34, became the head of the country's largest business empire, an empire that he would control, nurture, and expand with uncommon dedication and hard work all his life. But JRD was not a mere business tycoon. Although he was comfortably placed and had a good relationship with the ruling British, he opted to join the Freedom Movement in 1940. He attended the Congress Session of 1942 when the Quit India Movement was launched. And when he was offered a knighthood, he declined it.
After Independence, he did his best to contribute towards the fulfilment of Nehru's dream of making India an industrialised country. For 52 years, JRD was Chairman of the house of Tata, the largest industrial conglomerate of India which produces steel, electric power, chemicals, automobiles, and a number of household appliances and goods. In all probability the tea that you drink, or the soap that you use, or the car that you drive might have the Tata label on it.
If JRD had only worried about making money, he would not have commanded as much love and respect of his people as he actually did. He was also a great philanthropist, although he did not believe in charity. Long before the government woke up to the problem of rising population, JRD had urged the government to promote the family planning programme. When his words were not paid heed to, he initiated through his own resources, the Family Planning Association of India. The government and the world was slow to recognise his efforts in this direction, although the United Nations conferred on him the UN Population Award. Even the Indian Government showered him with recognition, including the Bharat Ratna. But JRD was not so much interested in awards, as he was in being part of nation's development process. He was a little hurt, however, that never once had any Prime Minister asked him what he thought of the economic policy of the country. "In no other country would this have happened," he used to complain bitterly.
Undeterred by the odds, JRD carried on with his work. When he had to finally give up the Chairmanship of Air India, the Daily Telegraph of London credited him with making Air India 'one of the world's most successful airlines'.
JRD was once asked what was it about flying that he took to it with such great passion. "The fact that you find yourself totally alone," he replied, "in the immensity of space makes you very humble and makes you see of what little consequence you are. And then you identify yourself with God, with the immensity of nature."
http://www.tribuneindia.com/2000/20000319/spectrum/main2.htm