Text and Illustration by Kuldip Dhiman

ON May 29, 1953, Namgyal Wangdi and Sir Edmund Hillary became the first men to set foot on Sargarmantha, the highest mountain in the world. Sargarmantha, as the Nepalese call it, or Chomolungma, as the Tibetans call it, or Mt. Everest, if you like, has always been a challenge to climbers all over the world. Remembering the historic climb to the summit, Namgyal Wangdi, better known as Sherpa Tenzing later wrote: "On the top of the rock cliff we rested again. Certainly, after the climb up the gap we were both a bit breathless, but after some slow pulls at the oxygen I am feeling fine. I look up; the top is very close now; and my heart thumps with excitement and joy."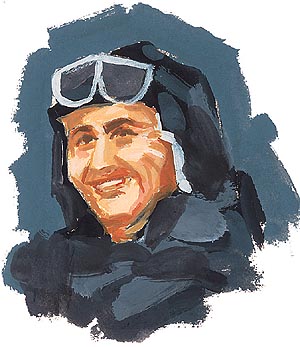 When the news reached the world the Nepalese government claimed that he was Nepalese, and the Indian government asserted he was an Indian. Tenzing's own reply to this was simple: "I was born in the womb of Nepal and raised in the lap of India." Throughout his life, people often asked him whether it was he or Sir Edmund who got on to the Everest first. Tenzing used to dismiss such unnecessary speculation with his disarming smile: "We climbed as a team, period."
Before reaching the top of Mt. Everest, Tenzing had accompanied many expeditions to the peak. A few months before he and Raymond Lambert of the 1952 Swiss expedition, had come within 1,000 feet of the summit — the highest point that anyone had reached until then.
"Norgay" means "fortunate"), and Tenzing was indeed a lucky man for when he was about 18, he left for Darjeeling in India and found himself a member of a British expedition. Ever since their first expedition in 1921, the British had drawn on Darjeeling's large Sherpa population for help in getting to Everest as well as climbing it.That explains why he, in spite of no previous mountaineering experience, got a place in Eric Shipton's 1935 Everest Expedition. He was 19 at the time and newly married — to Dawa Phuti, a Sherpa girl living in Darjeeling. His performance on this climb was hugely appreciated, and he was immediately hired for later British Everest expeditions. He was of such easy manner that he got along extremely well with almost everyone, even the highly eccentric and irascible Tibetologist Guiseppe Tucci whom everyone dreaded.
Although Tenzing's name is permanently associated with Everest, it is generally forgotten that he also participated in expeditions to India's Nanda Devi, Pakistan's Tirich Mir and Nanga Parbat, as well as Nepal's Langtang area and India's Garwhal, where he and fellow climbers made first ascents.
In his eventful life, Norgay received many honors, and was feted, among others, by world leaders and heads of state. He became the first Field Director of the newly-established Himalayan Mountaineering Institute, a post that he held for 22 years.
For a humble Sherpa born into a poor family in the high mountain village of Thame in Nepal, it had been a long road from being a mountain coolie, to becoming an icon of his age the world over. He went on to become the ambassador for his people, the high altitude Sherpas of Darjeeling and the Khumbu. Although this humble mountain man never learnt to read or write, he spoke seven languages and dictated several books including his autobiography Tiger of the Snows.