WHEN the twelve-year Agnes Gonxha Bojaxhiu of a little vil-lage in the former Yugoslavia, decided to become a nun, little did she know that destiny would lead her to the streets of Calcutta. Anyhow at the age of eighteen she went to Ireland and joined the Order of Loreto nuns and changed her name to 'Teresa'. It is in Ireland that she heard a 'call' to go to Calcutta, where she arrived in 1929 as a teacher. She would devote the next seventeen years of her life to teaching.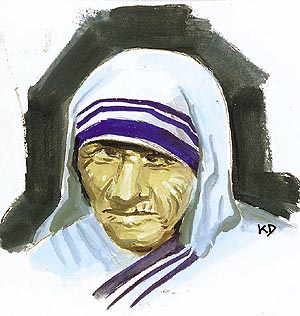 In 1946, while she was travel-ling by train to Darjeeling, she heard a voice that bade her to leave the convent and start serv-ing the poorest of the poor. With only about five rupees in one hand, and a bible in another, she set up the Missionaries of Char-ity, and organisation devoted to serving the poor. The very first woman she picked up was dying in the street; rats and ants crawl-ing all over her. The sight moved her and she decided to make a home for the homeless which she called 'Nirmal Hriday'. This was followed by 'Nirmal Shishu Bhavan' a home for the orphans. Over the years 10,000 children have been raised in these homes. Her other concern was lepers, who are usually abandoned by their own family members. She built 'Prem Nivas' for them and nursed their wounds. Because of her undying devotion to the downtrodden she came to be known as 'the Saint of the Gut-ters'.
In 1971 the Pope honoured her with the first Pope John XXIII Peace Prize. The same year she was awarded the Joseph Kennedy Jr. Peace Prize, the Jawaharlal Nehru Award for International Understanding, and to top it the Nobel Prize for Peace, in 1979. In 1991 she returned for the first time to her native Albania (Serbia) to open in Tirana a home for the poor.
Sometime before her death she told her admirers about a dream in which she saw herself at the gates of heaven. ' St. Peter said,' the Mother recalled, 'go back to earth, there are no slums here.
http://www.tribuneindia.com/2000/20000116/spectrum/main2.htm