By Kuldip Dhiman
IN a room filled with wonder struck audience, a young man is playing chess. Nothing unusual about a young man playing chess, but this man is also counting the ringing of a bell, listening to Arabic and Latin verses and repeating them, and solving a mathematical problem — all at the same time! Such was the awe-inspiring genius of Dr Hardayal, a great scholar, writer and freedom fighter.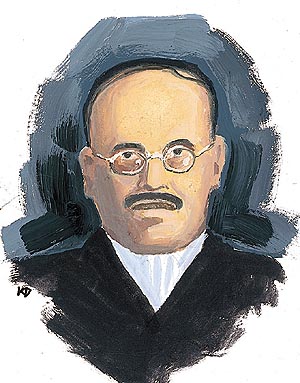 His peers were quick to recognise the prodigy among them and offered him a state scholarship that took him to Balliol College, Oxford. He was doing extremely well there, but after meeting firebrand revolutionaries like Vinayak Damodar Savarkar, he learnt that young men back home were sacrificing their lives to liberate their motherland, he gave up studies and returned to India and joined the freedom movement.
Soon he was in the thick of revolutionary activities. He moved the masses with his fiery speeches and writings. The government could not tolerate him any more, and decided to arrest him. He got wind of the plans, and fled to France, because he believed that he could better help the cause of freedom from abroad. At about the same time Madam Cama was planning to start publishing Bande Matram, a monthy journal from Geneva. She invited Dr Hardayal to assist her as editor. Later he went to Harvard, and got involved in the Ghaddar Movement. The party felt that it too must bring out a revolutionary newspaper to inspire freedom fighters. The first issue of Ghaddar appeared on November 1, 1913, and soon it became so popular that they had to smuggle copies into India on a regular basis. It openly advocated revolt, and assured Indian revolutionaries of German help.
Unfortunately the Ghaddar Movement lost steam, and most of its members withered away. After 1927, Dr Hardayal went to London and did his doctorate. He wrote a thesis which was accepted by the University of London, and later published as Bodhisattva.
Dr Hardayal was of the opinion that with the spread of western education, Indians were forgetting their own cultural values. "Patriotism must decay under a system which discourages the study of our national past," he believed, "British educational policy separates the cultured classes from the common people, diminishes their reverence and love for heroes of ancient and medieval India, and curbs their political aspirations." But when someone pointed out that he himself had studied in western institutions, Dr Hardayal replied: "I am what I am in spite of the education imparted by the foreign Christians in St. Stephen's College. If I were a product of this system of education, how is it that you don't find so many Hardayals?"
It is not difficult to answer that, for the likes of Dr Hardayal are not mass produced by nature.
http://www.tribuneindia.com/2000/20000130/spectrum/main2.htm