IF he wished he could have led a comfortable life running his family's business, but how could Lala Lajpat Rai allow himself the luxuries of life while millions of his countrymen suffered? When the Simon Commission was in India in 1928, he opposed it in the Central Assembly. He took active part in the demonstration, against it and was mercilessly beaten up by the police. As he lay in a pool of blood he uttered the prophetic words: "Every blow that is raised today is a nail in the coffin of the British Raj." He died on November 17, 1928.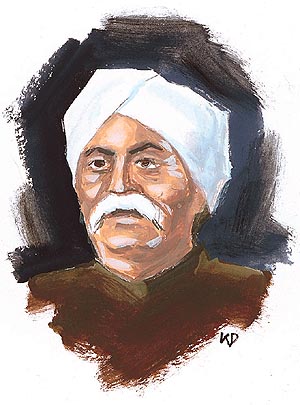 Paying him a tribute Gandhi said: 'His patriotism was no narrow creed. He loved the world. His nationalism was internationalism. His activities were multifarious.... Like many of us, he became a politician because his zeal for social reform demanded participation in politics.'
Lala Lajpat Rai started his practice in 1895 at the district court of Hisar, and proved to be very successful. He devoted his time and financial resources to social service, to the Arya Samaj in order to reform Hinduism, and to setting up schools and colleges. He was instrumental in founding the DAV College, Punjab National Bank, and Laxmi Insurance Company. He also built orphanages and Homes for widows. When India was hit with a severe famine in 1897, he organised relief work.
In 1904 he, along with Lala Jaswant Rai, launched a newspaper called Punjabee.In the Banaras session of the Congress, 1905, it was decided to send a delegation of two persons to England in view of the impending elect ions in Britain, to present to British electorate and political leaders the problems the Indians; Lala Lajpat Rai and Gokhale were the delegates chosen. Once in England, they addressed as many as forty meetings in a single month. From there they went to the US where they studied the working of educational institutions. After his return in 1907, Lalaji was arrested for his outspoken views against the government, and was sent to Mandalay Fort in Burma. This made him even more popular.
Gandhi's methods had no appeal for Lalaji. In the elections to the Central Assembly, he drifted away from the Congress and joined hands with Malaviya, Dr Moonje Kelkar, and Jayakar, and formed the Nationalist Party.
Since the British Government was spreading false stories about the Nationalist movement abroad, he went to England in 1914 to counter the propaganda. After two or three months the First World War broke out, so he went to the US, and stayed there for the next five years because he was not allowed to return to India. There he wrote Young India, and after the war he returned to Lahore. 'Not only struggle, but vigorous struggle is the law of progress,' he used to say. And struggle he did all his life to achieve his goal of freedom.

http://www.tribuneindia.com/2000/20000123/spectrum/main2.htm