THE deathof Lala Lajpat Raj at the hands of the police came as a rude shock to the people of India. There were many young men whose blood curdled and yearned for revenge. They held J.A. Scott, the Superintdent of police, Lahore, responsible for the death of their beloved leader. The task avenging the death was entrusted to Bhagat Singh, Rajguru, Sukhdev, Azad and Jai Gopal. December 17,1928 was the chosen day. As they waited with loaded firearms, an Englishman came out of the Secretariat. Rajguru fired at him, and as he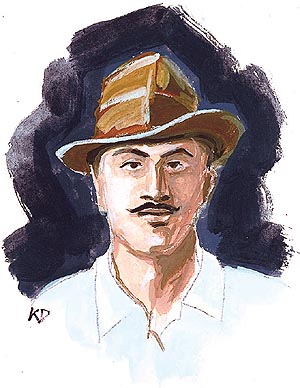 went down, Bhagat Singh fired four or five more bullets into his head. Mission complete, the Revolutionaries escaped through the back door of DAV College. From there Bhagat Singh, Rajguru, and Durga Bhabhi escaped to Calcutta. On their way the young revolutionaries congratulated themselves, unaware of the fact that they had actually killed the Deputy Superintendent, J.P. Saunders. The target they got was wrong; the effect on the masses electrifying.
Bhagat Singh's life was full of such dare-devilry. Born in Banga, Layallpur, into a family of revolutionaries, patriotism was second nature to him. At the time of his birth two of his uncles were in prison for revolutionary activities. One of his uncles, Ajit Singh, had started the Bharat Mata Society, and also founded a newspaper called Peshwa which was later banned by the Punjab Government.
Bhagat Singh left school in 1921 in response to Gandhi's call to boycott all educational institutions. After the call was withdrawn Bhagat Singh went to National College where he met among others Professor Jayachand Vidyalankar, Professor Tirath Ram, Sukh Dev, Bhagvati Charan, and Yashpal. Bhagat Singh found a mentor in Professor Vidyalankar. He met Kartar Singh Sarabha and Rash Behari Bose, and was greatly inspired by them.
Two events greatly changed Bhagat Singh's life: the Ghaddar Movement and the Jallianwalah Bagh massacre. Now he was a full-fledged revolutionary. He left Lahore for Kanpur where he adopted the name of Balwant Singh. There he came under the influence of other great thinkers. He learnt Bengali, and read Karl Marx. He joined Hindustan Republican Association, and came in contact with Batukeshwar Dutt, Chandrashekhar Azad, and Bejoy Kumar Sinha. In 1926 he started the Naujawan Bharat Sabha which boycotted foreign goods, advocated physical fitness and development of Indian languages and culture. The secret activities of the Sabha soon came to the notice of the Government and it was banned on in 1930 under the Seditious Meetings Act.
Bhagat Singh and his friends were not content with mere meetings, boycotts, and speeches. They wanted to do something to shake the very foundations of the British Empire. After careful thought, they decided to throw bombs in the Central Assembly in Delhi 'to make the deaf hear'. They could have escaped but they surrendered immediately after the incident. The trial that followed united the entire nation. Bhagat Singh, Sukhdev and Shivram Rajguru were hanged on 23 March, 1931.