By Kuldip Dhiman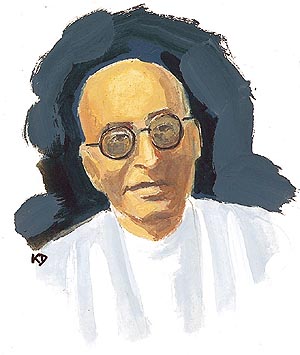 TWENTYFIVE days after Gandhi broke the Salt Laws, another man repeated the symbolic act by marching along with ninetyeight satyagrahis from Trichy to Vedaranayam. He was arrested and sentenced to six months' rigorous imprisonment. Rajan to his parents, and CR or Rajaji to his admirers, Chakravarti Rajagopalachari was not only a great leader and administrator, he was also a great scholar and writer. Chakravarti means world conqueror — he was a world conqueror indeed; not of land, but of hearts.
Born in Thorapalli, Salem district, Rajagopalachari started practice in Salem in 1900. A man of the world, he really enjoyed the pleasures of life in his early years. He played tennis, enjoyed billiards and cards, and was a good marksman. He was the first lawyer in Salem to own a car. But all this changed after he met Gandhi in 1919. His admiration for Gandhi's methods was reciprocated by the latter. Gandhi used to refer to him as his conscious keeper. In line with the policies of the freedom movement, Rajagopalachari built an ashram at Tiruchengode in 1925. He showed courage by first admitting four Harijans into the ashram. Although some people dubbed him 'deputy Gandhi', Rajagopalachari was not a blind follower, and often voiced his difference of opinion openly. He was a bitter critic of socialism and communism, as he regarded cooperative farming, quotas, and licences counterproductive and main source of corruption.
An experienced organiser, Rajaji helped Gandhi in concluding the Gandhi-Irwin Pact, and persuaded him to attend the Second Roundtable Conference in London. He drafted the Poona Pact in order to keep Harijans within the Hindu fold by advocating joint electorates, and reservation of seats. When Congress accepted office in the provinces under the Government of India Act of 1935, he was made the Prime Minister of Madras. He proved to be an able administrator, commanding the loyalty of the people. In order to generate funds, he introduced sales tax for the first time in India.
During the negotiations for the transfer of power, Rajaji played a crucial role as member of the Partition Council. He risked unpopularity when he said, "I do not believe in Pakistan. But the Mussalmans ask for it. Mr Jinnah asks for it, and it has become an obsession with them. Why not say 'yes' to them just now."
After Independence he succeeded Lord Mountbatten as Governor General of India. Later he devoted his time to social work. For a democracy to be healthy, he realised the need for a strong opposition. He formed the Swatantra Party in 1959 as a national alternative.
Much more than his contribution to the freedom struggle, Rajaji will be remembered for his commentaries on the Upanishads, the Bhagavadgita, and his version of the Ramayana and the Mahabharata, which over the years have run into many reprints. He won the Sahitya Akademi Award for his Ramayana.
http://www.tribuneindia.com/2000/20000130/spectrum/main2.htm