SOLDIERS are often honoured for their bravery, but it is usually at a formal function after a war, but Field Marshal Sam Hormusji Framji Jamshedji Manekshaw has the rare distinction of being honoured for his bravery on the battle front itself. During the World War II, he was leading a counter-offensive against the invading Japanese in Burma. As he charged forward with his men, a Japanese soldier suddenly emerged from the bushes and fired at him, wounding him seriously in the stomach. Fortunately, Major-General D. T. Cowan spotted Sam holding on to life. The General was aware of Sam's valour in face of stiff resistance from the Japanese. Fearing the worst, the Major-General quickly pinned his own Military Cross ribbon on to Sam saying: "A dead person cannot be awarded a Military Cross."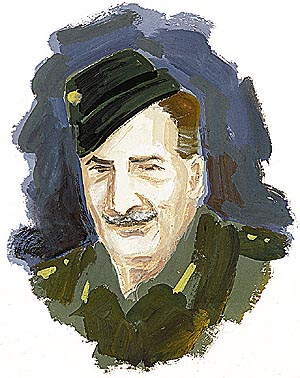 And yet this great soldier and officer who would finally become a Field Marshal many decades later, actually wanted to be a gynaecologist! He was born in Amritsar on April 3, 1914, and was the fifth child in a family of four brothers and two sisters. Endowed with a good sense of humour, this thin and wiry lad kept the family in splits with his jokes and mimicry. His father, Dr H. F. Manekshaw was a doctor, and Sam also wanted to be a doctor. But while he was at Hindu College, Amritsar, he saw an advertisement calling young men to enter the newly established Indian Military Academy in Dehra Dun. Sam gave it a shot, and he was selected.
Commissioned in 1934, the young officer held several regimental assignments. He was soon a Second Lieutenant, and was attached first to the Royal Scots, and then to the Frontier Force Regiment. The 5' 10" dashing young officer soon fell in love with a charming and talented girl, Siloo, and married her in 1939.
Having recovered from those near-fatal wounds in Burma, Manekshaw went for a course at the Staff College, Quetta, and later also served there as an instructor before being sent to join 12 Frontier Force Rifles in Burma. He was once again involved in a fierce battle with the Japanese, and was wounded for a second time.
Towards the close of World War II, Manekshaw was sent as Staff Officer to General Daisy in Indo-China where, after the Japanese surrender, he helped rehabilitate over 10,000 prisoners of war. He, then, went on a six-month lecture tour to Australia in 1946, and after his return served as First Grade Staff Officer in the Military Operations Directorate.
Manekshaw showed acumen for planning and administration while handling the issues related to Partition, and later put to use his battle skills during the operation in Jammu and Kashmir. By 1957, he was a Major-General. As GOC-in-C Eastern Command, he handled the tricky problem of insurgency in Nagaland. The grateful nation honoured him with a Padma Bhushan in 1968.
Manekshaw succeeded Gen. Kumaramangalam as Army Chief on June 8, 1969. In a couple of years thousands of refugees from the then East Pakistan started crossing over to India as a result of oppression unleashed by the West Pakistan Army. The volatile situation got worse, and soon erupted into a full-scale war in 1971. During the military campaign, Manekshaw showed uncommon ability to motivate the forces, coupling it with mature war strategy. The war ended with Pakistan's unconditional surrender, and the formation of Bangladesh.
Manekshaw was honoured with a Padma Vibhushan in 1972, and was made Field Marshal in 1973.