By Kuldip Dhiman
DAUGHTER of Sardar Umrao Singh Majithia, a nobleman, and Antoinette, a well-known Hungarian musician and opera singer, Amrita Sher-Gill was born in Budapest Hungary on January 30, 1921. Since she showed artistic talent from the very beginning, her parents sent her to Florence, Italy to study art. She was expelled from school for having drawn women in the nude. The family then moved to Paris and Amrita began to work with Pierre Vaillant and Prof. Lucien Simon at Ecole Nationale des Beaux Arts. She studied there for three years. Her painting Young Girls was adjudged as the picture of the year, making Amrita the youngest person ever to be honoured thus. She was also made Associate of the Grand Salon, the first Indian to achieve this distinction.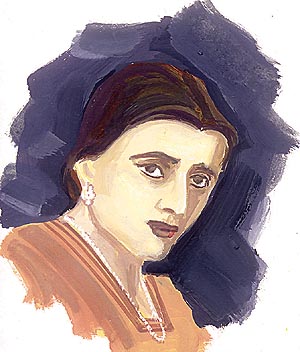 Paris was obviously the right place in the world for a talented artist to be in. It was there that she came under the influence of the post-Impressionists, and she even tried to emulate them until she came to India for the first time in the 1920s. From that instant her work underwent a sea change.
"As soon as I put my foot on Indian soil," she observed later, "my painting underwent a change not only in subject and spirit, but in technical expression becoming more fundamentally Indian. I realised my artistic mission then: to interpret the life of Indians and particularly of the poor Indians pictorially, to paint the silent images of infinite submission and patience, to depict the angular brown bodies, strangely beautiful in their ugliness, to reproduce on canvas the impression their sad eyes created on me."
During her first visit, she stayed mainly in Summer Hill, Shimla, intermingling with the hill people. As she went from village to village, she was greatly impressed by their rustic beauty. It was not long before she began to depict them on canvas. Her works soon began to appear in art exhibitions in Shamble, Delhi, and Bombay.
She held a solo exhibition in Lahore in 1937, displaying 30 of her works. This was a very prolific period for her because in the following year she made some of her most famous paintings Siesta, The Story Teller, Ganesh Puja. Hillside, Hill Scene.
A woman of exceptional beauty, Amrita married her cousin, Dr. Victor Egan, in 1938. After marriage the couple tried to settle down in Shimla but were dogged by financial problems. They moved to Lahore, but even there matters did not improve. She nevertheless continued to paint and make great strides in art circles of her time, but unfortunately before she could accomplish more, she died in the prime of her youth.
http://www.tribuneindia.com/2000/20000312/spectrum/main2.htm