By Kuldip Dhiman
MENTION the word sitar, and the first name that springs to our minds is that of Pandit Ravi Shankar, India's cultural ambas-sador to the world.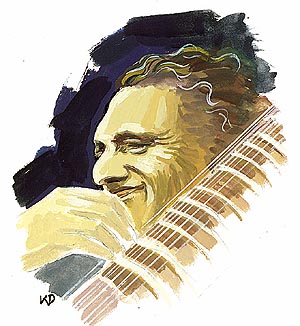 As a little boy he toured all over the world as a member of his brother's dance troupe. Since young Ravi Shankar was more inclined towards music, he was sent to Ustad Alauddin Khan of Maihar for training. Destiny would take him to the West, turning him to a cult figure. His association with the Beatles and Yehudi Menuhin resulted in interesting East-West fusion. To popularise Indian music, Ravi Shankar opened a school in Los Angeles in 1967. Fifty years after his debut, his admirers seem to have lost count of the number of concerts he has held, and the number of discs he has recorded.
Artists are rarely recognised in their lifetime, but Ravi Shankar has been one of the few lucky artistes who have been admired by critics and art lovers alike ever since his appearance on world stage. National and international awards were showered upon him in torrents, such as the Interna-tional Music Vensco Award, the Silver Bear, and Venice Festival Award. During 1969-74 he composed and conducted Festival of India music with top musicians of Europe and America. Between 1949 and 1955, he served as Director of Music of All India Radio. In 1976 he was elected Fellow of the Sangeet Natak Akatemy. The Government of India nominated him to the Rajya Sabha in 1986. He wrote and conducted the orchestral musical ballet based on Nehru's Discovery of India. The haunting signature music of the IX Asiad held in Delhi was his composition. He also gave the musical score for Stayajit Ray's masterpiece Pather Panchali, and a couple of other films.
Talking about the impact of Ravi Shankar on music lovers, especially the young ones, Ravi Shankar's old friend Yehudi Menuhin once said: 'In him they recognize a synthesis of the immediacy of expression, the spontaneity, truth and integrity of action suited to the moment, that is a form of honesty characteristic of both the innocent child and the great artist.
http://www.tribuneindia.com/2000/20000109/spectrum/main2.htm